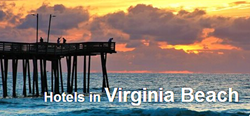 Virginia Beach is one of the most scenic beaches on the East Coast. VBhotels.net, an online hotel finder, recently ranked the best hotels in the region based on user ratings.
(PRWEB) September 10, 2014
Virginia Beach is unquestionably the most preferred family vacation spot on the East Coast. Due to the huge influx of vacationers all throughout the year, Virginia accommodation options have increased by leaps and bounds over the years. VBhotels.net, a leading Virginia Beach tourist information portal, recently ranked the best VB hotels on the basis of user ratings, distance of the hotels from airport and tourist attractions in the vicinity and many other factors. The site has introduced a five-star rating system to enable the present and past guests of the Virginia Beach hotels to share their experience. Users of VBhotels.net can now check the ratings of the best VB hotels and read guest reviews bedsore deciding on choosing an accommodation in the region.
Virginia Beach hotels are some of the best beach hotels in the USA. These hotels and resorts offer all the world-class amenities that vacationers highly expect. However, every vacationer has his own set of preferences and they have certain budgetary constraints as well. VBhotels.net has categorized hotels on VB based on budget, distance from nearest airport, distance from nearest top attractions etc, in a bid to make it possible more number of vacationers to grab the best VB hotel deals. Users of the portal can also narrow down the accommodation options to find hotels and resorts within the vicinity of their areas of preference or airports where they will arrive.
Speaking on the occasion of latest ranks and ratings assigned to different hotels in the region, the site's owner and administrator said, "We have seen that people mostly look for guest reviews and ratings as they can get unbiased views on the service quality and myriad other things about the hotels in VB, or hotels in any other part of the country for that matter. It is essential to check out the latest deals since almost every day, a new deal is announced by some or the other hotel in the region. We just strive to provide our visitors with the latest updates about these VA hotels so that they can take an informed decision every time."
About the Company
VBhotels.net is an online Virginia Beach hotels finder and travel guide that is found to be useful by millions of vacationers. To find the best VB hotel now, just visit http://www.vbhotels.net/