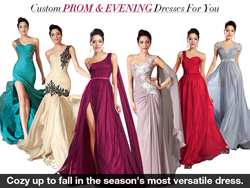 Thanksgiving Promotion by Topwedding Includes No-cost Shipping and Discount Coupon
(PRWEB) November 06, 2014
As part of a Thanksgiving Day celebration, Topwedding is offering two incredible savings opportunities on merchandise. Between November 18 and November 30, customers will receive free shipping on all dresses except flower girl dresses. Free shipping can result in a saving of between 60 and 80 USD per dress. Additionally, customers can take an additional 10 percent off all orders between the 10th and the 17th of November with a discount coupon available at Topwedding.com as seen at http://www.topwedding.com.
Topwedding is the place to go not only for wedding attire but also for prom dresses as seen at http://www.topwedding.com/prom-dresses and accessories. With dresses in all styles and sizes, Topwedding can outfit an entire bridal party easily and also offers Quinceanera dresses, cocktail dresses and evening gowns, homecoming dresses and graduation dresses.
Topwedding serves all areas of the world through multiple-language websites. Topwedding.de as seen at http://www.topwedding.de, as well as http://www.topwedding.fr and http://www.topwedding.es help brides and women all over the world find the dresses they need for special occasions. No matter what type of occasion, women will find that Topwedding includes the very best bridal, special occasion and evening dresses as well as accessories at the lowest possible prices. With savings on shipping, many women can select top-quality gowns and dresses cheaper than they can find them at retail stores, even when on sale. Fast, friendly service and reliable shipping mean that women will receive their gowns in time for the big event, as well. Some items, marked "fast delivery," can be shipped in even less time.
American customers can save money with Topwedding's vast assortment of bridal and special occasion gowns. Every dress can be customized except those marked "fast delivery." Now, with the help of these incredible discounts, customers can save even more money on dresses with free delivery and a 10 percent discount coupon. This can easily add up to as much as 80 USD per gown or dress. For the very best in wedding and evening fashion, including quality gowns and dresses as well as accessories, Topwedding offers a wide selection, low prices, great customer service and fast delivery.
About Topwedding:
Topwedding is a reliable and professional wedding and party dress online store. Topwedding delivers quality dresses in all styles and sizes to meet every wedding and special occasion dress need.