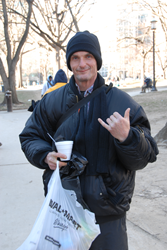 Many homeless people are willing to work, but because of felony convictions and other reasons, find it nearly impossible to get a job. It's time to think outside the box and help them discover other opportunities.
Berryville, VA (PRWEB) May 21, 2014
This summer Teens Opposing Poverty (TOP), a Virginia-based nonprofit organization that trains youth how to reach out to the homeless and poor, will begin training the unemployed homeless and other low income people how to earn a living selling through Amazon, eBay and other online marketplaces. The pilot program will take place in Washington, DC and the Northern Shenandoah Valley of Virginia.
To cover start-up costs, TOP is conducting a campaign on the crowdfunding site StartSomeGood.com. The campaign runs through May 31. Their goal is to raise at least $9,000 to cover the cost of curriculum development, initial inventory.
TOP staff selected "The Proven Amazon Course" as the foundation for the TOPwerx curriculum, citing it as the only training that met their requirements.
"The program we chose had to meet strict criteria," said Steve Jennings, TOP's Executive Director. "It had to produce a quick and reliable income, be something a high school dropout could do, and it had to be supported by a community of people who were already successful at working the business. We have thoroughly tested this model and have proven that it works."
Jim Cockrum, originator of the "Proven Amazon Course", agrees that selling through Amazon is a viable business model for the homeless. "For the first time in history anyone can tap into the opportunity of selling virtually anything on the world's largest and most successful marketplace. I am thrilled to partner with TOP and their vision of ending poverty by helping establish entrepreneurs in real businesses," he affirmed.
In addition to the "Proven Amazon Course", the TOPwerx curriculum will help students develop an entrepreneur's mindset, master the necessary technology and learn the administrative aspects of running a business. Youth volunteers will participate in the technology training and other aspects of the course.