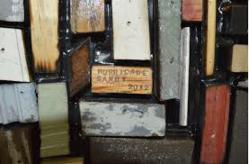 Wildeman says our work reflects who we are on the inside at that exact moment. This evolves over time, as does our art.
Belmar, NJ (PRWEB) July 03, 2013
What people are drawn to, what interests humans, the way individuals relate & communicate both verbally and visually, all are a result of the layering effect of identity/and how people identify.
By philosophical definition, identity is an aspect in which an "individual is recognizable in a group." Or "characteristics that make an entity definable and recognizable".
Individual's personal conception and expression is formed through a combination of gender, cultural, sociological, sexual, geographical and psychological identity.
Identity is built from outside the self, whereas the self takes an active role when it comes to identification - a combination of outside influence with internal choice.
The subject, size/scale, mediums, how materials are handled or combined, what palettes are chosen and what decisions are executed all extensions of the inner artist. The artists in this exhibition explore the tension, the harmony, the changeable & unchangeable elements of personal identity; from the inside, out..
Ocean Grove resident, former contractor, and artist Roddy Wildeman has transformed this former automobile showroom, across from Klein's Restaurant, into a sophisticated gallery and comprehensive exhibition space available for rental. Torche' Galerie is bi-level and spans over 4,500 square feet. The main floor is equipped with removable/adjustable walls which lends itself to a variety of spacial configurations. The second floor houses three rectangular exhibition rooms, and is equipped with a viewing room for video installation. Torche' Galerie is one of the largest independently run exhibition spaces on the Jersey shore.
Wildeman, who is best known locally for his "Composite Memory Artwork," that utilizes collected remnants from homes destroyed in hurricane Sandy, is the gallery's owner & director. The current Co-Curator, Melissa Starke, is a Long Branch native. Starke holds the position of Department Coordinator for Fine Arts at the Fashion Institute of Technology and is co-founder/project coordinator for Urban Studio, an artists collective.
Wildeman's impulse to create this gallery taps into the energy of the revitalization and rebuilding of the post-Sandy communities around him. His desire to memorialize and honor the homes of local residents in his own work is paired with his vision of bringing people together in this community and beyond.
"INSIDE OUT" FEATURED ARTISTS:
Suzanne Anan, Beth Boquel, Erin Collier, Slavko Djuric, Rune Egenes, Maggie Fischer, Karen Gentile, Lauren Goldstein, Eric Gottshall, Kathleen Granados, James Gritt, Wendi Gueorguiev, Gloria J. Harrelson, Nils Hasche-Vasquez, Pete Hoffmiester, Pat Hutchinson, Patricia Kaufman, Sara Kinneary, Tali Krupkin, Mark Kurdziel, Rebecca LaPera, Anne Mailey, Anthony Martino, Francis Mesaros, Linda Myers, Carolyn Oberst, Ron Ortiz, Linda Orton, Dan Paola, Sabina Pieslak, Richard Pitts, Cristina Razzano, Felipe Rose, Patricia Senkiw-Rudowsky, Patrick Schiavino, Andrea Springer, Melissa Starke, Jason Stevens, Maria Luisa Tamara-DeSantis, TOLO, Jennifer Torres, Zol Uguumursaikhan, Jeff Way, Heidi Day Wenzel, Jean Wetta, Roddy Wildeman, Marcin Wlodarczyk, Jane Wojciechowski