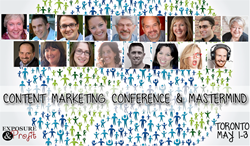 This is your chance to learn from the best content marketers in the business.
Lansing, MI (PRWEB) April 14, 2015
Solopreneur Business Coach, Blogger and Podcaster, Kelly McCausey built a successful business focusing on creating content and community. Kelly is host of the second annual Exposure & Profit Content Marketing Conference & Mastermind in Toronto, May 1-3, at the International Plaza Hotel, 655 Dixon Road, Toronto, ON (416-246-7961). Kelly chose other inspiring leaders and experts to present their best profitable community building tips, as well as their technical and business expertise.
Attendees will hear from keynote speakers Stu McLaren, Bob Jenkins, and Therese Sparby.
About Stu McLaren:
Stu is the former co-owner and co-founder of WishList Member, a WordPress plugin that has helped thousands of entrepreneurs create membership sites. Now, he spends his time helping authors and speakers build their platforms, so they can get more exposure and earn an even bigger income.
Stu's keynote address is titled, More Money, More Impact. In it, he'll be speaking on how to build a business that allows entrepreneurs to live the lifestyle they've always wanted. He'll also share how he uses his business to not only support his family, but also to make the world a better place by founding schools in remote areas.
About Bob Jenkins:
Bob is the Marketing Educator At LeadPages™, a landing page generator. He is a business coach for entrepreneurs that helps his clients discover new strategies and tools to reach their goals. He's also the author of the book, Take Action, Revise Later.
Bob's keynote address is titled, Attracting Your Most Valuable Community. In his speech, Bob will be providing practical advice on how to use a mailing list to create a valuable community that's excited to receive emails. He'll also include examples of opt-in offers that are successful conversion magnets.
About Therese Sparby:
Therese is a leadership coach that works with entrepreneurs, authors, speakers, and niche leaders. She guides each of her clients as they discover their life purpose and set big goals. As she helps clients get unstuck and live their dreams, she shares her no BS approach to life and business.
Therese's keynote address is titled, Creating an Intentional Community. In it, Therese will show how to build a community and step up as a leader with eagerness to serve.
About the Conference:
Exposure & Profit will kick off on Friday, May 1 with the optional Mastermind sessions. These sessions are an exclusive opportunity that will give entrepreneurs the chance to share business challenges and receive feedback from real business experts.
The Exposure & Profit conference officially begins with registration on Saturday, May 2 and ends Sunday evening on May 3 with a wrap up party.
Workshop leaders include David Perdew, Michel Fortin, Ronnie Nijmeh, Kristen Joy, Paul Taubman, Natalia Kantor, Jan Keck and Lynn Terry. Topics will include purposeful community building, crafting powerful video series and creating engaging social content.
Why Attend:
Many involved in full time content marketing spend a high percentage of their time at the computer. This is a chance to learn from the best content marketers in the business while networking and socializing with other entrepreneurs and small business owners who understand what entrepreneurs are creating.
About our Sponsor - Perceptive Public Relations:
Perceptive Public Relations recognizes the entrepreneurial spirit and creativity of their clients and develops public relations and publicity programs that highlight the benefits they bring to their markets. Their impressive list of clients consistently report increased business growth with deepened customer satisfaction and loyalty.
Sandy Lawrence, CEO and Founder, serves as the driving force of the company. A PR and Marketing Strategist with over 30 years experience in the industry, Sandy was most recently recognized as #17 in the Top 100 Social Influencers in Houston, Texas for 2014. The Houston Business Journal identified Perceptive Public Relations as one the Top 25 Marketing/PR from 2009 to 2013. For the past 13 years, Sandy's personal focus has been working as a publicist with authors, publishers, coaches and speakers.
Media Inquiries:
For media inquiries, images, speaker biographies and seminar schedule, please email Kelly McCausey, support(at)solosmarts(dot)com
Ticket Information:
Tickets are available for advance purchase on the Exposure & Profit site.
Tickets for the 2-day workshop are $197 and include access to all sessions on Saturday & Sunday, access to the Saturday Night Reception, and audio recordings (to be delivered after the event).
Tickets for Friday's Mastermind are $97 and include a continental breakfast & lunch.