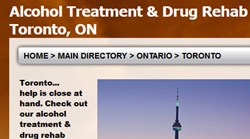 Many patients come to our British Columbia facility from other cities and provinces in Canada such as Toronto.
Toronto, ON (PRWEB) August 01, 2013
Sunshine Coast Health Center, one of Canada's top drug rehabilitation centers, is proud to announce a new project improving their Web visibility for Toronto drug rehab and related inquiries. Many Toronto and Canadian residents often look first for local drug rehab centres and do not realize the advantages of residential treatment options across Canada.
"One aspect of successful drug abuse rehabilitation is focus," explained Daniel Jordan, Chief Marketing Officer. "Many patients come to our British Columbia facility from other cities and provinces in Canada such as Toronto to find a private, focused space to work on their addiction issues with our professional staff."
For more information on drug rehab across Canada, including Toronto, please visit http://www.sunshinecoasthealthcentre.ca/toronto-rehab.html. There one can find information on drug rehabilitation including the philosophy and location of Sunshine Coast Health Centre.
Targeted Internet Searches and Drug Rehabilitation in Canada
The Internet, specifically Google or Bing, can be the first place that a person goes to begin the process of recovery from drug abuse. Indeed, many times it is not the person with the drug problem but rather a family member that begins the process. Social media such as Facebook or Twitter are often not as used, as many people are reluctant to share personal problems on social media. Therefore, a stronger Internet presence on search engines across Canada is important.
With Toronto being the largest city in Canada, it has understandably one of the largest populations of people seeking drug rehab and treatment services. Finding local treatment options is a good option for some; for others, travel to a more private, focused drug rehab centre will prove to be a more effective strategy.
About Sunshine Coast Health Center
Sunshine Coast Health Center officially opened on the 15th of March, 2004, as a 16-bed drug and alcohol rehabilitation facility designed exclusively for men. The center has a philosophy of care that goes beyond just addiction to include personal transformation based on four key therapeutic principles: respect, gratitude, empathy, and humility. The center offers both drug rehabilitation and alcohol treatment near Vancouver, BC, but serving patients across Canada, particularly British Columbia and Alberta and cities such as Calgary, Edmonton and Toronto.
Sunshine Coast Health Center
http://www.sunshinecoasthealthcentre.ca/
Tel. 866-487-9010