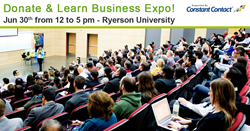 There has never been a better way to learn!
Toronto, ON (PRWEB) June 29, 2015
In partnership with Enactus-Ryerson University the June 30 Donate & Learn Business Expo features Keynote Speakers from Microsoft Bing, American Express, Constant Contact and Green Lotus. Providing Expo attendees with valuable insights into what it takes to succeed, lessons learned, and how to apply them to any SMB.
Donate & Learn Expo Workshops provide entrepreneurs and SMBs the opportunity to learn specific strategies to boost business leads by marketing, branding and developing an online presence. Workshops include industry experts:

Increase Your Marketing Campaign Effectiveness with Microsoft BingAds
Outrank Your Competitors Online in 5 Easy Steps with Green Lotus SEO Tools
What are you Worth? Learn How to Increase Your Income Dramatically! Presented by the Investors Group
Create a Powerful and Engaging Email Marketing Campaign with Constant Contact
Build a Thriving Brand and Create Explosive Success with Focus Mastery, presented by Chris Crawford of KAMedia
Event Details:
Date: June 30, 2014 at 12 – 5pm
Location: Ryerson University - Ted Rogers Building, 55 Dundas Street West, Toronto
Cost: FREE (donations accepted)
Donate & Register: http://greenlotus.ca/expo
Who Should Attend?
Whether just getting started planning business strategy, or deep into implementation; Donate & Learn Events provide the knowledge, strategies, tools and networking opportunities needed to succeed. Entrepreneurs, business owners, marketing professionals, SMBs and startups will all gain valuable insights that can be applied to their own work.
About the Donate & Learn Initiative
"The concept is simple – instead of paying a conference fee, participants make a $20 tax-deductible donation to Donate & Learn partnering charities," says Bassem Ghali, the founder of the Donate & Learn Initiative and Head of Client Strategy at Green Lotus.
The Donate & Learn initiative was created by Green Lotus in 2012 to support local Toronto charities and provide informative, educational events with a focus on social media, online marketing strategies, and the tools needed to achieve online marketing goals.
There has never been a better way to learn!