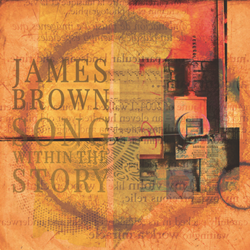 I'm so pleased with how the trio has developed. We've been working regularly at clubs like the Rex Jazz Bar in Toronto for three or four years, and we've been playing a lot of the pieces on this CD.
RICHMOND, Calif. (PRWEB) January 26, 2022
Guitarist-composer James Brown returns from a 13-year recording hiatus with the fetching "Song Within the Story," set for a March 18 release on NGP Records. Brown's fourth album, and his first since 2009's "Sevendaze," finds him helming his Toronto-based working trio featuring bassist Clark Johnston and drummer Anthony Michelli. Respected tenor saxophonist Mike Murley joins the band on three of the album's 10 tracks—eight of which are original compositions that document Brown's ongoing intermarriage of jazz and classical music, while two covers explore Canada's rich folk-rock legacy.
Brown is deeply immersed in jazz-classical fusion; he wrote his master's thesis on the Third Stream movement (the early 1960s effort to merge the two genres) and last year premiered "The Mosley Street Suite," a concert work in that style. "Song within the Story," though, offers no hint of the bombast or self-seriousness often associated with classical music. It's a thoroughly swinging affair, packed with melody and inventive, often blistering improvisations by Brown and the band.
"I'm so pleased with how the trio has developed," the guitarist says. "We've been working regularly at clubs like the Rex Jazz Bar in Toronto for three or four years, and we've been playing a lot of the pieces on this CD."
Their hard work shows on unconventional pieces like the 7/4 groover "Alystair and I" and the harmonically daring "The Circle," both of which they tackle with apparent ease and aplomb. They do no less, however, on the bluesy "Igor" or the (outwardly) delicate "All Rivers Lead." The latter is one of the three showcases for guest player Murley, whose thoughtful but unyielding solo offers a glimpse of the intensity that lies beneath the tune's surface.
"Igor" is named for and inspired by the great composer Igor Stravinsky, a nod to Brown's classical pursuits. The album's title track contains echoes of Pat Metheny. But the influences on display throughout "Song Within the Story" are hardly a jazz-classical binary. "Mbira Kids," as its title suggests, directly evokes the musical traditions of Southern Africa (specifically, that of Zimbabwe's Shona people). Meanwhile, the trio passionately renders ballads by Neil Young ("The Needle and the Damage Done") and Joni Mitchell ("A Case of You"), perhaps the two most revered Canadian singer-songwriters of the rock era.
"I'm not afraid of going into folk or rock," says Brown of his musical concept. "I like when there's something a little bit more going on." On "Song Within the Story," there's a lot more going on, and it resounds through the album's every note.
James Brown was born in 1967 in Oakville, Ontario, and was raised in the city of Burlington. His maternal grandmother and paternal grandfather were Québécois musicians, and James followed in their footsteps at age 13 when he began taking guitar lessons. These led a few years later to classical guitar studies at Toronto's Royal Conservatory of Music.
At first, his ambitions were to become "the next Segovia or John Williams"—but while studying at the University of Toronto, he found a new role model in Ed Bickert. Often hailed as Canada's finest jazz guitarist, Bickert was local to Toronto; Brown began frequenting his appearances at area clubs, enchanted by his tone.
While he continued his classical curriculum, Brown also began attending informal jam sessions, slowly recalibrating his creative trajectory. (He eventually did the same with his studies, focusing on Gunther Schuller's Third Stream music for his master's degree.) By 1998, his immersion in jazz was deep enough to record his debut album, "First Dance," with renowned Toronto musicians Ernie Tollar (saxophones), Andrew Downing (bass), and John Obercian (drums).
Brown recorded two additional albums in 2002 (The Home Fields) and 2009 (Sevendaze), but slowed his approach in the 2010s while he and his wife Lisa—to whom "All Rivers Lead" is dedicated—raised the six children in their blended family. But a few years ago, feeling ripe for a comeback, he created a trio with Clark Johnston on bass and Anthony Michelli on drums, working regularly to shape the empathetic and tightly woven sound they evidence today.
Brown has also remained committed to classical music—and the possibilities of jazz as a contributor to that tradition. His 2021 chamber piece, "The Mosley Street Suite," featured among its movements several tunes that have also made their way onto "Song Within the Story."
The James Brown Quartet will be performing at the following venues, with additional dates to be announced: Sat. 3/26 The Jazz Room, Waterloo, ON (8:00 & 9:30 pm); Thurs. 4/21 Paradise Theatre, Toronto, ON (8:00 pm).