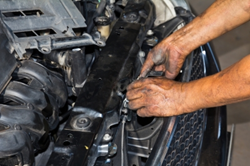 New models of gearboxes with higher and lower gear ratios are contributing to reduced emissions and better fuel economy for more auto owners nationally
Dallas, TX (PRWEB) March 18, 2015
The developments at the Chrysler company over the past decade have helped introduce brand new automotive technology to automobile buyers in the United States. The PreownedTransmissions.com company has now lowered its price for all used Torqueflite 8 transmissions in the inventory that is for sale online at http://preownedtransmissions.com/torqueflite-8-transmission.
The available inventory of 8-speed gearboxes that fit into Ram, Jeep and luxury vehicles produced by Chrysler will now be more attractive at a lower price point for national parts buyers. Due to more partners being selected for distribution, these new price points are possible this year. Additional sources are also being integrated into the company buying pattern to improve stock levels.
"New models of gearboxes with higher and lower gear ratios are contributing to reduced emissions and better fuel economy for more auto owners nationally," said a PreownedTransmissions.com company source.
Since secondary market inventory can have a questionable performance, the Preowned Transmissions company is now providing coverage for warranties for all units shipped throughout the country this year. All policy information that concerns which parts are covered under the warranty is now provided during the checkout process.
"Every Chrysler-based gearbox that we distribute comes with a specified maximum term of warranty protection to aid every consumer buying used units," said the source.
The PreownedTransmissions.com company has increased its national inventory of salvage vehicle components this month as part of its expansion. The search tool at http://preownedtransmissions.com/buy-salvage-transmissions now gives access to web shoppers interested in auto salvage parts for sale for a wider range of automaker brands.
About PreownedTransmissions.com
The PreownedTransmissions.com company provides low cost gearboxes for domestic and foreign motor vehicles in the U.S. The company has a full-time staff of sales professionals helping consumers to purchase parts on the web. The PreownedTransmissions.com company has arranged price research through its website by way of a connected database linked to national suppliers.