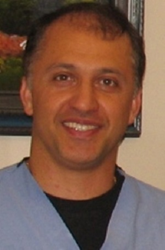 Torrance, CA (PRWEB) June 13, 2016
Cosmetic dentist, Dr. Robert Mondavi, now provides smile makeovers to patients with damaged teeth. Teeth can become damaged through dental trauma, decay, gum disease, and dental neglect. A badly damaged smile can cause serious emotional trauma to its owner. Those with damaged smiles may find themselves struggling to hide them behind hands or tightly closed lips. They may avoid social situations or become home-bound in order to hide their embarrassment. A smile makeover can help them regain their confidence.
"One of the reasons I love being a dentist is that the possibilities with your teeth are limitless. The high-end technology that is available today enables me to give you an amazing, healthy smile," Dr. Mondavi said. "Because my staff and I are trained yearly on the newest, most advanced procedures, I'm able to exceed patients' expectations." Many cosmetic dentistry procedures are available that can be used to transform even the most damaged smiles.
Some of their most asked-about treatments include:

Teeth whitening, which is used to bleach superficial stains and lighten the color of teeth.
Tooth-colored fillings to replace silver fillings, which can create a more uniform smile without any dark or unsightly areas.
All-ceramic inlays and onlays, which are often used as a conservative alternative to crowns and can also replace old metal fillings.
Extreme smile makeovers, which can include one or more cosmetic treatments to change multiple smile flaws at once.
Porcelain veneers, which conceal minor, moderate or more severe flaws such as chips, worn enamel, gaps, and discolorations that will not respond to teeth whitening.
Cosmetic lava crowns, which have a remarkably natural look and cover misshapen or unsightly teeth.
Dr. Mondavi offers comprehensive dental care that includes not only cosmetic treatments but also general and restorative dentistry, orthodontics, periodontics, and preventive dentistry.
About Dr. Robert Mondavi
Dr. Mondavi is a graduate of the University of the Pacific of San Francisco's School of Dentistry. He has completed numerous advanced programs, including Advanced Implant Training, Advanced Cosmetic Dentistry Training and Restoring Oral Bioesthetic Form and Function. This enables him to incorporate the latest technology and techniques into his practice and provide his patients with the best possible care.