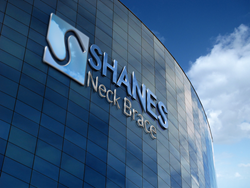 Shanes Neck Brace is only $129 and is made with pride in the USA, is waterproof, fully adjustable and can be worn comfortably for many hours!
Phoenix, Arizona (PRWEB) July 30, 2014
Shanes Neck Brace is now being offered online for support of all types of torticollis conditions. This may include cervical dystonia, drop head, spasmodic torticollis and many more. For more information or institutional sales, call (623) 295-2505.
Shanes Neck Brace is very different than any other torticollis neck brace available. In order to make the brace the best on the market, inventor Shane Peters worked with designers and engineers for years to develop a comfortable, durable brace.
The neck support brace is hand made with pride in the USA, is completely waterproof and fully adjustable in both the front and the back. Because of this, it can be worn all day, providing immense posture support while being extremely lightweight.
Along with torticollis, Shanes Neck Brace has grown in popularity for whiplash, MS, ALS, Parkinsons Disease, arthritis and additional trauma conditions. It is available online for only $129 with a flat domestic shipping rate of $10. For international orders, the shipping is a flat $25.
For institutional or bulk orders, call Shanes Neck Brace at (623) 295-2505.