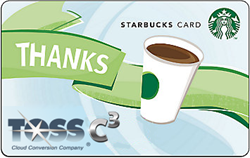 The "magic" of cloud computing is that whether you're in the office or enjoying a delicious drink at Starbucks, you have the same fast and secure computer experience.
Southborough, MA (PRWEB) January 13, 2014
TOSS C3 has been extending perks to its cloud clients since the inception of the TOSS Cloud in 1999. The selection of Starbucks for its 2014 Cloud Perk Program was an obvious choice.
"As part of the onboarding and orientation process, new clients joining the TOSS Cloud, receive a welcome-kit. We wanted to give them something tangible that would be a fun experience while driving home the value and power of what cloud computing can do for their business and personal productivity." stated Greg Hanna, President and CEO with TOSS C3. "Starbucks is known for its commitment to its customers, products quality, and pleasant ambiance with high-speed internet access. The "magic" of cloud computing is that whether you're in the office or enjoying a delicious drink at Starbucks, you have the same fast and secure computer experience. Sure, there were other beverage and food companies for TOSS to partner with, and Starbucks represents what the TOSS Cloud is known for, quality, consistency, commitment, and an upscale experience. So, sending a $100 - $500 co-branded Starbucks gift card to every new client gets them out of the office to try their new TOSS Cloud system in a fun and friendly environment. In short, Starbucks not only provides quality products that tastes good but has long understood the unmistakable value of detachment from the office environment, providing a free flow of ideas and increased productivity. TOSS understands that, too! An occasional, un-entangled, completely reliable, good-feeling work environment is exactly what every creative mind needs." TOSS C3 is the #1 fastest, most reliable, and secure way for businesses to eliminate 99% of their IT-related problems [downtime, system crashes, slowness, data loss] and other technical issues, while giving their employees access to their desktops, applications, email, and data from any device, anywhere, at any time.
"Right in the midst of Hurricane Sandy [the week of October 28, 2012] I just wanted to let you know how glad we are that we are in the Cloud! Our power went out yesterday early afternoon and is still out, so we are all working from home (or in our managing partner's case, the Starbucks near the office)" said Terry Strom, Office Manager at Bass, Doherty & Finks, P.C. "Email and desktop access have been seamless and exactly what we hoped for when we signed up with TOSS!"
"In December 2012, our law firm changed from in-house servers to TOSS' cloud based platform. We also upgraded our email and word processing software. Oh, and it all had to happen over the last few days of the year so we could be live January 1st" said Susan Sawyer, Executive Director at Tucker, Saltzman and Dyer. "The TOSS Cloud has saved us well over $67,000 in IT expenses and lost productivity so far and TOSS C3 clearly has the skill necessary for proper planning and implementation."
"All our Microsoft and Linux applications are offsite in the cloud, so we are able to access them from the office or from any remote location" said Chris Riley, President & CEO of Community Service Stations. "Going into the cloud with TOSS C3 was the best IT business decision I've made."
Business executives and owners interested in learning more about TOSS C3, downloading a copy of TOSS C3's Invaluable Cloud Report, and getting a Cloud Readiness Assessment, can visit http://www.FreeCloudReadiness.com. Businesses interested in speaking with TOSS C3 should contact Mike Ciulla at 1-888-884-TOSS or 508-820-2990 x990 for more information.