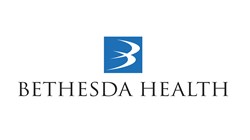 This is the first of many future products that will make Intelligent Orthopaedic Surgery a standard for Bethesda Health.
(PRWEB) August 08, 2013
Bethesda Health is proud to offer new leading edge technology in intelligent knee replacement surgery.
OrthoSensor's™ VERASENSE™ Knee Sensor is an intelligent instrument that replaces the standard plastic tibial trial spacer block typically used during total knee replacement surgery. The VERASENSE Knee Sensor is embedded with advanced sensors, accelerometers, microelectronics and wireless communication technology.
The VERASENSE Sensor quantifies and wirelessly transmits key data on joint load, alignment and balance in real-time to the VERASENSE Knee Application, which features a 27" monitor for easy viewing by the surgeon and hospital staff during surgery. This dynamic, visual and quantifiable feedback enables surgeons to make informed adjustments to optimize implant placement and soft tissue balance. Proper balance of the soft tissues, such as ligaments, tendons and muscles, are critical for a knee implant to function correctly. Improper soft tissue balance and alignment has been demonstrated to cause up to 36% of early implant revision surgeries. This is the first of many future products that will make Intelligent Orthopaedic Surgery a standard of care.
Before the adoption of Intelligent Orthopaedic Surgery, surgeons' decisions about soft tissue balance, load and limb alignment have varied based on a surgeon's individual judgment, experience and skill set. The real-time evidence provided by the VERASENSE Sensor advances surgeon decision making about crucial soft tissue adjustments from a feel-based art, to a quantifiable science.
Benefits of the VERASENSE Knee Sensor:

Surgeons are able to make adjustments to soft tissue around the knee and optimize implant placement due to real-time data.
Helps to improve outcomes.
Reduces failure rates in knee replacement surgery.
Improves function of the new knee.
Reduces the need for costly revision surgery.
For more information about the use of Intelligent Orthopaedics at Bethesda Health, visit us online at http://www.BethesdaOrthopaedics.org
About Bethesda Health, Inc.
Founded in 1959, Bethesda Health, Inc., is a healthcare organization serving the medical needs of South Palm Beach County with a mission to provide quality health services in a caring manner. With two not-for-profit hospitals, Bethesda Hospital East and Bethesda Hospital West, Bethesda Health is comprised of more than 600 physicians in more than 40 areas of specialty on its medical staff. Bethesda Health and its affiliates offer a full array of healthcare services, including the Bethesda Heart Hospital for the most comprehensive level of cardiovascular services; a nationally recognized wound care and hyperbaric medicine program; general, vascular and endovascular surgery; maternity, neonatal and pediatric intensive care; women's health services and the Bethesda Comprehensive Cancer Center, an Affiliate of South Florida Radiation Oncology. Bethesda Health's newest hospital Bethesda Hospital West, opened in January 2013, as an 80-bed, all private room, state-of-the-art, community hospital, with a 24-hour Emergency Department for adults and children, located on the northeast corner of Boynton Beach Boulevard and US-441. Visit us at http://www.bethesdaweb.com/.
About OrthoSensor, Inc.
OrthoSensor, Inc. (http://www.orthosensor.com/orthosensor) is an innovative medical device company developing and commercializing intelligent Orthopaedic devices that provide real-time data to surgeons and hospitals during and after surgery. OrthoSensor's intelligent Orthopaedic devices utilize advanced sensor and wireless communication technology with the goal of improving healthcare outcomes and reducing the cost of treating musculoskeletal disease. The company's intelligent Orthopaedic instrumentation and implants are designed to enhance surgical implantation, as well as enable remote monitoring of implant function and overall musculoskeletal health.