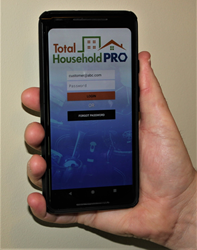 "A lot of our clients use QuickBooks and we wanted to make the experience as seamless as possible with our new Merchant Services features," said Jeff LaCava, Founder and CEO of TotalHousehold Pro. "Our Merchant Services app was designed to provide home improvement contractors with a simple, low cost
BETHEL, Conn. (PRWEB) June 19, 2019
TotalHousehold Pro is proud to announce that its Merchant Services app designed specifically for home improvement contractors is now integrated with QuickBooks.
The seamless integration allows customers who are already using QuickBooks to take advantage of the app, which allows contractors to take payments in the field with any Android mobile device. Unlike competitors, the app doesn't require additional equipment and offers some of the lowest rates in the industry with no upfront costs or monthly fees.
Everything from invoices to transactions handled through the Merchant Services app are now automatically recorded to the customers' QuickBooks account. After months of development, the integration was completed this month.
"A lot of our clients use QuickBooks and we wanted to make the experience as seamless as possible with our new Merchant Services features," said Jeff LaCava, Founder and CEO of TotalHousehold Pro. "Our Merchant Services app was designed to provide home improvement contractors with a simple, low cost solution to take payments in the field."
The app also offers its own web-based dashboard where contractors can process payments, invoice clients and more. With the ability to have multiple users, contractors can also track payments processed by employees given access to the app.
The app was launched in February through a partnership with CardConnect, a FirstData Company. The partnership allows TotalHousehold to offer significantly lower processing costs than industry standards through simple, flat-rate pricing.
For more information visit http://totalhousehold.news/merchant-services
###
About TotalHousehold Pro
TotalHousehold Pro was founded in 2010 with the idea to bridge the gap between Home Improvement Contractors and Homeowners. TotalHousehold Pro has grown into a Digital Marketing Agency and Technology Solution provider tailored for the Home Improvement and Construction Industry. They have become a leader in the Digital Marketing arena providing Website Creation, Content Creation, Lead Generation, Advertising, Social Media Management, Web-based Application Development, and Mobile Technology. TotalHousehold has won numerous awards for Technology Innovation and Entrepreneurship. For more information, visit https://pro.totalhousehold.com or call 800-325-4315.