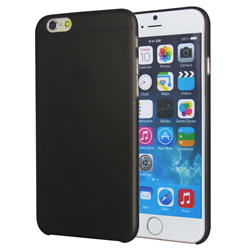 iPhone users are constantly looking for a more elegant solution in a case that offers protection without the bulk
Los Angeles, CA (PRWEB) December 17, 2014
According to industry experts, Apple will sell anywhere from 55 million to 60 million iPhones this holiday season, and thanks to the launch of the world's thinnest iPhone case developed by a California-based company called Totallee, iPhone users across the globe will no longer have to cover up their beautiful phones with bulky cases.
"All of our cases cater to people that enjoy minimalistic design, but the Scarf is our thinnest case yet," said Matt Hug, CEO and spokesperson for Totallee, the creators of the newly released case called the Scarf. "It was our goal to go as thin as possible and offer an ultra slim case that still protects your iPhone from scratches, dirt and bumps."
The Scarf, according to Hug, is only 0.35 millimeters thin and weighs less than 0.20 ounces.
Hug went on to point out that The Scarf is made of a polypropylene, a thermoplastic polymer, which is lightweight yet tough and impact resistant.
The minimal design of the case complements the sleek style of the iPhone and offers protection without the bulk, Hug stressed, before adding that his company is now offering the Scarf in three colors for $14.99, along with a 60-day warranty on their website at http://www.totalleecase.com.
Totallee's releasing of the world's thinnest iPhone case could prove to have perfect timing.
According to a recent study by NPD Group, which consistently ranks among the top 25 market research companies, 87 percent of iPhone owners use a protective case with their phone.
The number one reason iPhone owners don't use a case, according to the study, is that it would add too much bulk to the design of their phone.
"iPhone users are constantly looking for a more elegant solution in a case that offers protection without the bulk," Hug said. "We have that solution with the world's thinnest iPhone case."
In addition, the global demand for iPhones is high, increasing the need for a case that users feel compliments their phone.
In an interview with Fortune Magazine in reference to the iPhone 6 and iPhone 6 Plus, Apple CEO Tim Cook said, "These iPhones have become the fastest-selling iPhones in history. The first 30 days we have set a new high-water mark for the most orders taken. And I don't mean by a little. By a lot, a whole lot."
Hug noted that nine out of 10 people will be covering up their iPhone with a case, but explained that Totallee's new product, the Scarf, empowers iPhone users everywhere with the perfect complement and enhances the look of their iPhone rather than detracting from it.
As to how users rate the Scarf, David Parent, Chief Editor of NH Tech, gave it two thumbs up with a rating of 10 out of 10.
"Impressed by this case," he said.
Mark Olson, an Amazon customer, said, "I love the slimness of the iPhone, and unlike virtually every other case out there this one doesn't diminish that. It also allows the natural beauty of the phone to come through while protecting from scratches at the same time."
A second Amazon customer identified as Daniel R. Waun, added, "Everything I've been looking for in an iPhone case. Thin. Snug. Perfect. Best phone case I've purchased to date. Even better is that it's sold by an American company."
Hug explained that one of the most desired gifts under the Christmas tree this year will once more be the latest version of the iPhone.
"The new iPhone 6 and 6 Plus is a complete redesign of the previous model featuring a bigger screen size and a thinner body," Hug said. "Although users love the design aesthetics of their iPhones, they are often left with no other choice than cover up their beautiful phones with bulky cases. But with our product, that will no longer be the case."
For more information, please visit: http://www.totalleecase.com.