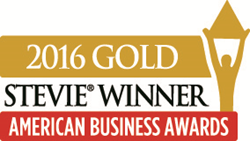 'Our omni-channel solution suite, which includes TouchSocial, is enabling market leading brands to meet and exceed customer expectations with real-time personalized engagement.' -- Bernard Louvat, president and CEO, TouchCommerce
Agoura Hills, Calif. (PRWEB) May 10, 2016
TouchCommerce, the innovative leader in omni-channel customer engagement solutions for market leading brands, today announced that the company's TouchSocial solution has won a Gold Stevie(R) award as part of the Best New Product/Service of the Year competition in the 2016 American Business Awards. TouchSocial received the top placement in the Social Business Solution category. This is the second consecutive year that TouchCommerce has received a Gold Stevie award -- in 2015, TouchCommerce earned the top placement for Most Innovative Tech Company of the Year in the marketing/advertising/business services category for companies up to 2,500 employees.
"We are thrilled to win the Gold Stevie award for the second year, this time having TouchSocial recognized as the top Social Business Solution in the ABA's Best New Product/Service of the Year competition," said Bernard Louvat, president and CEO of TouchCommerce. "Our omni-channel solution suite, which includes TouchSocial, is enabling market leading brands to meet and exceed customer expectations with real-time personalized engagement. This win for TouchSocial is another validation of our continued innovation."
The American Business Awards are the nation's premier business awards program. All organizations operating in the U.S. are eligible to submit nominations – public and private, for-profit and non-profit, large and small. Approximately 3,400 nominations from organizations of all sizes and in virtually every industry were submitted this year for consideration in a wide range of categories. More than 250 professionals worldwide participated in the judging process to select this year's Stevie Award winners. Other notable winners across categories in the American Business Awards competition this year include Comcast, Wells Fargo, Delta Air Lines, Marriott International, and many others.
"The judges were extremely impressed with the quality of the TouchCommerce entry, describing the TouchSocial solution as 'innovative,' 'a terrific idea', and a 'big deal for companies who will be able to resolve issues without being judged by social media but to the satisfaction of the customer'," said Michael Gallagher, president and founder of the Stevie Awards. "The competition was intense and every organization that has won should be proud."
With TouchSocial, brands can deliver a personalized online engagement experience for consumers on social networks with the purpose of increasing customer satisfaction and conversion. Through its innovative use of APIs and shortlinks embedded in social posts, TouchSocial offers live and automated engagement to resolve customer issues, enable consumer sentiment analysis, amplify customer care resolution, and leverage the power of social recommendations. TouchSocial allows brands to interact with social media users directly, offering real-time assistance while simultaneously shifting the conversation to a private interaction on the brand's website. This not only helps alleviate public displays of customer grievances, but also provides the consumer with new-gained trust based on personal interactions with the brand which leads to more positive sentiment, reviews and recommendations.
Please visit http://www.touchcommerce.com/touchsocial for more information on the TouchSocial solution or to view demo video. To view the full list of the 2016 New Product/Service of the Year winners, please visit the 2016 Stevie Award Winners page on StevieAwards.com/aba and select "New Product Awards".
About TouchCommerce:
TouchCommerce provides market leading brands with award-winning omni-channel solutions to engage their customers on any device through online chat, guides, personalized content, and other automated tools, resulting in enhanced customer experience, increased revenue and reduced support costs. For more information, please visit http://www.touchcommerce.com. Connect with TouchCommerce on Twitter (@touchcommerce) and LinkedIn.