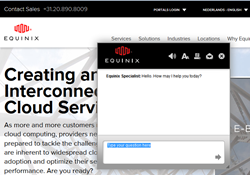 TouchCommerce has achieved results for Equinix through a variety of innovative strategies customized for the business-to-business environment.
Agoura Hills, Calif. (PRWEB) March 26, 2015
TouchCommerce, the innovative leader in omni-channel engagement solutions for market leading brands, today announced that it has expanded its EMEA contract with Equinix, the world's largest IBX data center and colocation provider. Equinix, which has been leveraging TouchCommerce TouchChat to engage with prospects and qualify leads for its services in the United Kingdom and Netherlands locations for over a year, has now completed its roll-out across Germany, France, Switzerland, and United Arab Emirates. Equinix will also be adding mobile chat to its online engagement program with TouchCommerce.
"We are thrilled to see the maturation and growth of our collaboration with Equinix," said Bernard Louvat, president and CEO of TouchCommerce. "The deciding factor for Equinix to extend and expand our contract was our ability to generate leads quickly with minimal chat hours spent. Equinix is a prime example of how business-to-business brands can benefit from live chat and we look forward to our continued success together."
Equinix provides the means for businesses to store or traffic their data through a facility that has the capacity to do so, in a fast and secure manner. Due to its highly specialized audience, Equinix has different goals for its online engagement program than a typical e-commerce brand. For Equinix, the key objective is to give its website visitors -- individuals who are tasked to find data center services for their own company -- a means to chat and ask questions, with the goal of getting prospect information via lead form. As web visitors on the site are in a very specific market, there may be just a handful of total interactions per day; however, a single purchase can be in the hundreds of thousands of dollars. Hence, the percentage of interactions that result in a lead submission and the average amount of chat time spent engaged with prospects per lead generated are key metrics for success. Among other strong performance indicators, approximately 16 percent of chat conversations result in lead submissions.
"TouchChat is a great asset to the Equinix sites," said John Wroath, EMEA digital marketing manager at Equinix. "We have had excellent feedback from both our customers and our sales teams in the Netherlands and UK over the last several months. We've also seen indirect impact, such as making visitors aware of new information and opportunities that can bring additional revenue to Equinix. We are excited to expand our relationship."
TouchCommerce has achieved results for Equinix through a variety of innovative strategies customized for the business-to-business environment. For example, in addition to the live chat option, TouchCommerce has made possible a persistent "Contact Us" experience, which keeps a Contact Us icon in eye range despite where the prospect scrolls on the screen. This experience is highly impactful in keeping the call to action top of mind for visitors.
To learn more about TouchChat, please visit http://www.touchcommerce.com/TouchChat. For more information about Equinix and to see TouchChat live in the abovementioned regions, please visit http://www.equinix.com.
About TouchCommerce:
Founded in 1999, TouchCommerce delivers results for market-leading brands with award-winning, innovative omni-channel engagement solutions that enhance customer experience, increase revenue and reduce support costs while using real time customer data analytics. For more information, please visit http://www.touchcommerce.com. Connect with TouchCommerce on Twitter (@touchcommerce) and LinkedIn.