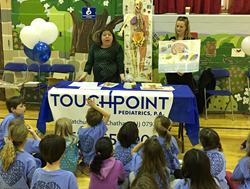 It is important to introduce children to the lifetime connection between a healthy mind and a healthy body.
Chatham, NJ (PRWEB) June 06, 2016
Jennifer Shaw, MD was a featured guest at Washington Avenue School's annual Special Events Day, providing elementary-aged students with vital information on the brain as part of this year's wellness and mindfulness theme.
Students who recently participated in the annual event at Chatham's Washington Avenue School attended presentations by several local healthcare providers and participated in parent-run exercises, had the opportunity to navigate through an obstacles course and get involved in other activities designed to help young people learn more about physical and mental well-being and nutrition. Dr. Shaw focused primarily on the brain and the mind-body connection.
"It is important to introduce children to the lifetime connection between a healthy mind and a healthy body. Having the school organize this interactive full-day forum with community speakers is a great way to guide them toward a healthy, balanced life," said Dr. Shaw. "Families in our practice have had fun integrating some of the suggestions from my few minutes with each class, such as brain breaks and training your brain, into their homework routines."
Students in grade levels ranging from kindergarten to third grade attended presentations by Touchpoint Pediatrics, where Dr. Shaw discussed topics such as how the nervous system works and learns, the importance of staying hydrated and good sleep. Other activities included yoga sessions, mindful walking and an exercise to help students better understand the spread of germs. Dr. Shaw provided students a brain activity page as an additional learning activity and fact sheet to bring home.
Additional hosts that participated in this year's event included Jessica Romero from Washington Avenue School community garden, Jen Wilbur, DDS from Starship Pediatric Dentistry and pediatric dentist Christina Carter, DDS from Carter Smile.
Anyone interested in learning more about Dr. Shaw's involvement in Washington Avenue's Special Events Day, arranging to have Touchpoint Pediatrics participate in your community event or in learning more about Touchpoint Pediatrics services can visit the website at http://www.touchpointpediatrics.com/ or call the office at (973) 665-0900 and arrange to visit the location at 17 Watchung Avenue in Chatham, N.J. 07928.
About Touchpoint Pediatrics:
Based in Chatham, N.J., Touchpoint Pediatrics was awarded a National Recognition as a Highest Level Patient-Centered Home. Promoting short wait times, flexible vaccine schedules and a personalized relationship between doctor and patient, Touchpoint has earned a reputation for their high-quality, comprehensive medical care and attentive customer service. There are four pediatricians, Dr. Jennifer Shaw, Dr. Margot Kerrigan, Dr. Stuart Slavin and Dr. Rachelle Namm. Jennifer Shaw, MD, the owner, is one of the first board-certified developmental and behavioral pediatricians in the nation and has been recognized by many peer, professional and parent groups as one of the top general pediatricians and top developmental behavioral pediatricians nationally and locally.