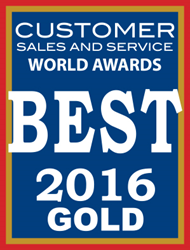 'We are committed to continuing to innovate so that enterprises can build deeper, more personalized connections with consumers,' -- Bernard Louvat, president and CEO, TouchCommerce
Agoura Hills, Calif. (PRWEB) May 24, 2016
TouchCommerce, the innovative leader in omni-channel customer engagement solutions for market leading brands, today announced that the company's TouchSMS product won the Gold honor in the Best Business Products, Upgrades, Solutions and Innovations competition of the 2016 Customer Sales and Service World Awards. TouchSMS received the top placement in the mid-size business category, which considers companies with 100 to 499 employees. TouchCommerce previously won a product award for its engagement layer technology in the 2014 competition of the Customer Sales and Service World Awards.
"We are having a terrific awards season with a series of recent wins, and are proud to receive yet another top placement, this time with the Customer Sales and Service World Awards for our newest product, TouchSMS," said Bernard Louvat, president and CEO of TouchCommerce. "This recognition for TouchSMS underscores the excitement we are seeing in the market around real-time customer interactions through native text messaging, and we are committed to continuing to innovate so that enterprises can build deeper, more personalized connections with consumers. "
The annual Customer Sales and Service World Awards are part of the Silicon Valley United States worldwide recognition programs, which consist of 10 annual award programs, each held at a different date and location. The Customer Sales and Service World Awards recognizes people, programs, and companies for their sales and service efforts in keeping their customers satisfied. Winners at the awards banquet receive plaques and trophies created by the makers of the Oscar®, Emmy®, and other major awards.
"We love seeing truly innovative, customer-centric products, such as TouchSMS from TouchCommerce, in our competition," said San Madan, co-president of Customer Sales and Service World Awards. "Customer service is a continually evolving field, and real-time engagement is increasingly important, as consumers today expect instant responsiveness. We congratulate TouchCommerce on the Gold win and look forward to seeing additional forward-thinking engagement solutions from the company in the future."
With TouchSMS, enterprises are able to offer customers a way to hold time- and location-sensitive conversations with the brand using two-way text messaging. TouchSMS also adds personalized engagement options for consumers who may have a slow or limited Internet connection -- for example, at a busy airport or convention center, or while traveling abroad -- where using SMS may be more practical than mobile data to resolve an issue or obtain additional information. Engagements through TouchSMS take place in a secure, private environment so that customers can send and receive sensitive information. In addition, TouchSMS enables conversations between the brand and the consumer to continue within the same intuitive channel, keeping the history of the engagement right at the consumer's fingertips. TouchSMS may be used to improve sales conversions with promotional messages to which consumers can respond, as well as inquire about a product, refill orders, etc. In customer service scenarios, TouchSMS may be used for getting assistance with checking an order status, scheduling or changing appointments, finding a store location, checking balances and due dates, and resetting passwords.
Please visit http://www.touchcommerce.com/TouchSMS for more information on TouchSMS. To view the full list of the 2016 Customer Sales and Service World Award winners, please visit http://www.cssworldawards.com/world and select "Winners."
About TouchCommerce:
TouchCommerce provides market leading brands with award-winning omni-channel solutions to engage their customers on any device through online chat, guides, personalized content, and other automated tools, resulting in enhanced customer experience, increased revenue and reduced support costs. For more information, please visit http://www.touchcommerce.com. Connect with TouchCommerce on Twitter (@touchcommerce) and LinkedIn.