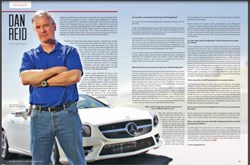 If a veteran wants to work then we will put them to work. If a disabled veteran wants to work for us, we will find a way to accommodate their disability
Portland, Oregon (PRWEB) November 27, 2013
Today, HR ToughGuard, LLC owner Dan Reid, and America's Veterans Racing, LLC (AVR) owner Paul Rodriguez, announced the partnership of their respective companies.
"By partnering with AVR, and supplying our product, we're helping AVR hire veterans, who served our country so admirably, by selling, applying and supporting the operations of AVR centered around our ToughGuard product line. The markets are numerous including; automobiles, Motorhomes/RV's, boats, commercial trucks, motorcycles, buses, etc.," said Reid.
Rodriguez agreed. "The partnership between the two companies is outstanding. ToughGuard has been very supportive in the establishment of an all-veteran detailing service."
America's Veterans Racing, LLC is the first military veteran owned NASCAR Camping World Truck Series Team. They will have the first all-male and all female veteran pit crews. AVR's mission is to put veterans to work. "If a veteran wants to work then we will put them to work. If a disabled veteran wants to work for us, we will find a way to accommodate their disability", said Rodriguez.
America's Veterans Racing, LLC will help to create exposure for HR ToughGuard by employing veterans to apply HR ToughGuard's Nano-polymer surface coatings product line. America's Veterans Racing, LLC will sell the different coatings products to car dealerships and be the designated detailers to apply the products to vehicles sold by the dealership.
ToughGuard is proud to support America's Veterans Racing, LLC and both companies look forward to a long and fruitful partnership that will allow them to create jobs for veterans for years to come.
About HR ToughGuard, LLC
HR ToughGuard is the leader in Nano-polymer surface coatings. ToughGuard® is a unique Nano resin/polymer formulation that bonds with surfaces, providing a perfectly clear, Nano-thin barrier coat protecting against destructive environmental elements and man-made contaminants for years. The product is used on land vehicles, airplanes, marine vessels, as well as communications equipment such as radar dishes and antennae, solar and wind turbine applications.
HR ToughGuard is headquartered in Portland, Oregon. For further information, please visit the company's website at http://www.toughguard.com/.
SOURCE HR ToughGuard, LLC
RELATED LINKS:
America's Veterans Racing
ToughGuard Website