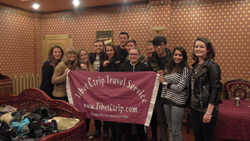 We assure you different Tibet travel with lower price in 2015-2016! Contact www.tibetCtrip.com now!
Lhasa, Tibet (PRWEB) March 05, 2015
When booking a tour, many travelers will discover that a Tibet travel agency (http://www.tibetctrip.com) offers many kinds of tours. Each kind of tour offers a different kind of experience and it's important for a travel group to keep this in mind as they plan their tour. To help ensure travelers plan the trip that's right for them, Tony of Tibet Ctrip Travel Agency-TCTS breaks down what they can expect.
Sightseeing: A sightseeing tour can be designed for both travelers seeking an easy-paced, relaxed experience and those who only have a few days in Tibet. Travelers can see Lhasa in as little as four days; from there, the sky is the limit! After Lhasa, those with extra time often visit places such as Shigatse, Tsetang, or Everest. This is a great way to enjoy an introduction to Tibetan culture and history while traveling with family or a group of friends.
Cultural: Looking for an eye-opening cultural experience? After spending time visiting Tibet, many travelers agree that they never look at life in the same way again. The devout spirit of the Tibetan people is strikingly evident in ornate temples and monasteries that are filled with pilgrims, chanting monks, and mind-blowing works of art. A quality Tibet tour company, such as TCTS, will arrange for native Tibetan guides who are passionate about sharing their culture and eager to answer travelers' questions.
Adventure: In Tibet, opportunities for trekking and mountain biking abound. While TCTS does recommend investing time in training for an adventure, one does not have to be a skilled athlete to trek or bike Tibet; there are routes appropriate for all levels of skills and experience. Some of the most popular include the Everest Base Camp trek and Kailash Manasarovar Pilgrimage. Adventures like these are by far the best way to experience Tibet's stunning high-altitude landscapes. Before lugging a bunch of heavy equipment overseas, be sure to ask the group's Tibet tour operator what's provided.
Picking a tour that matches the group's interest is key to an unforgettable experience. A sightseeing tour is great for those who are interested in learning about Tibetan culture and history but ultimately want to relax and enjoy time with family or friends. Those looking to push themselves and dive into what Tibet has to offer are best off on a cultural or adventure tour. A Tibet travel company can assist the group in designing a tour that matches their interests. With the 2015 travel season right around the corner now is the time to start planning!