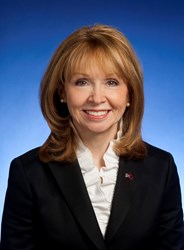 The accomplishments under [Susan Whitaker's] leadership will have a lasting impact on Tennessee.
Nashville, Tenn. (PRWEB) August 19, 2013
Commissioner Susan Whitaker, Tennessee Department of Tourist Development, was named 2013 State Tourism Director of the Year by the U.S. Travel Association's National Council of State Tourism Directors. The announcement was made during lunch Monday, Aug. 19 at the U.S. Travel Association's Educational Seminar for Tourism Organizations in Richmond, VA.
The State Tourism Director of the Year Award is presented annually to the state tourism director who contributes to successfully raising the profile of their state as a travel and tourism destination, selecting the individual exhibiting the most impressive achievements. It's a unique honor as a fellow state tourism director makes the nomination and the top three nominations are sent to the entire organization for a vote.
"I am so honored to receive this special recognition from the U.S. Travel Association and my fellow state tourism directors," said Whitaker. "I recognize this is a reflection of the talent and dedication of my entire team at the Tennessee Department of Tourist Development. It's their innovation and hard work that has made us so successful. I can't wait to get back to Nashville to celebrate with them."
Whitaker, a veteran tourism marketing executive, was appointed Commissioner of Tourist Development in January of 2011 by Governor Bill Haslam. Whitaker was initially appointed to the position in 2003 by Governor Phil Bredesen, and reappointed under his administration in 2007. 2013 marks her 10th year as tourism commissioner.
Tourism is one of Tennessee's largest industries, providing a $15.36 billion direct economic impact and generating more than $1 billion annually in state and local sales tax revenue, with a record-setting 54 million person-trips to Tennessee in 2011 – a 10 percent increase, ranking the state 9th in total travel.
"This honor is well-deserved," Tennessee Gov. Bill Haslam said. "Susan and her staff bring innovative ideas and vision to Tennessee's thriving tourism industry, and the accomplishments under her leadership, will have a lasting impact on Tennessee."
Whitaker previously held the position of vice-president of marketing for Dollywood, Tennessee's most visited tourist attraction. Her former boss, entertainment icon Dolly Parton, weighs in on Whitaker's award. "Susan is not only a friend of mine but she's one of the best friends that our Tennessee tourism industry has ever known," said Parton. "Susan makes sure that the welcome mat is always out for folks who want to visit our great state, and I appreciate her enthusiasm, dedication, and get-it-done attitude!"
Included among Whitaker's major accomplishments for Tennessee is the launch of the Discover Tennessee Trails & Byways program which features 16 comprehensive, statewide trails in all of Tennessee's 95 counties and along the state's five National Scenic Byways. As the co-chair of Tennessee's Civil War Sesquicentennial Commission, Whitaker is a strategic part of the planning and overseeing of Tennessee's 150th Civil War commemoration, including the launch of the Tennessee Civil War Trails Program. Whitaker launched Tennessee's Sustainable Tourism initiative with the 2008 Great Smoky Mountain Sustainable Tourism Summit, positioning the state as a national leader in sustainable tourism.
Whitaker serves as the Secretary of the U.S. Travel Association's Board of Directors. She also serves on the Executive Committee of the National Council of State Travel Directors, Travel South USA Board of Directors, the University of Tennessee's Retail, Hospitality and Tourism Management Advisory Board, and the Governor's International Advisory Council.
For additional information, contact Melanie Beauchamp at melanie.beauchamp(at)tn(dot)gov or (615) 532-0484.
# # #
The U.S. Travel Association is the national, non-profit organization representing all components of the travel industry that generates $2.0 trillion in economic output and supports 14.6 million jobs. U.S. Travel's mission is to increase travel to and within the United States.