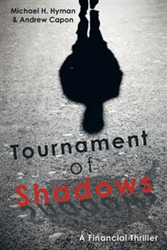 Toronto (PRWEB) May 20, 2016
In the shadows, there are those who plot to exploit the financial weaknesses of the United States. A well-planned global assault could threaten the dollar's position as the world's reserve currency. It will take the combined efforts of Sarah Linderman and Jack Romanov to foil an international conspiracy to destabilize the global financial markets and bring America to her knees.
Who are the concealed enemies of the United States, and why are they so hell bent on throwing the world into a financial crisis? Will Sarah and Jack be able to stop them before it's too late, or will America end up powerless and poverty stricken?
"Tournament of Shadows" (published by Archway Publishing) is a work of fiction, but authors Michael H. Hyman & Andrew Capon say recent events show that in the financial world, the truth can be stranger and sometimes just as sinister: "The United States is over-extended economically and financially and therefore we are at risk to an economic or financial attack or terrorism," says Hyman.
The authors made it their objective to both entertain and educate; the story reveals why the U.S. is at risk through a fast-paced narrative filled with action. Hyman says readers seeking a financial thriller are bound to find "Tournament of Shadows" a bona fide page-turner.
"Tournament of Shadows"
By Michael H. Hyman & Andrew Capon
Hardcover | 6 x 9 in | 316 pages | ISBN 9781480827462
Softcover | 6 x 9 in | 316 pages | ISBN 9781480827455
E-Book | 316 pages | ISBN 9781480827448
Available at Amazon and Barnes & Noble
About the Author
Michael Hyman "cut his teeth" in the London markets of the '80s and '90s with GH Asset Management, after completing his post-graduate studies at the London School of Economics. He has founded several financial services start-up companies.
Andrew Capon is head of strategic communications at Insight Investment, the United Kingdom's biggest active fund manager. He has 20 years experience of financial markets as a senior investment analyst, strategist and award-winning journalist.