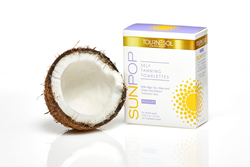 MIAMI (PRWEB) February 18, 2019
Independent beauty brand Tournesol™ will debut its new line of sunless tanning products this spring at major retailers, Evine Live and Amazon. The new line consists of three new products formulated with Algo Tan, a marine based complex that is clinically proven to mimic a natural tan from the sun without the harmful effects. Along with natural DHA these two combined provide the most beautiful, believable, natural looking sunless tan. Made proudly in Florida!
"Our team's number one priority is to ensure that our customers get a beautiful, healthy tan that is not damaging to their skin," said the creators. "Tournesol's new Algo Tan complex is the ingredient that sets this new line apart from all the other products available on the market because it's guaranteed to give customers the glow they want." Created by a team of women determined to address the lack of affordable yet effective products on the market, Tournesol products are made with high quality ingredients that are combined to produce a natural looking tan while also keeping the skin healthy.
"After years of research and development we found the perfect ingredient in Algo Tan and we're excited to release our inaugural line of products," said the creators. "In the past year we've successfully launched our first product, SunDust, which captured the attention of major retailers that will be retailing the full new line of products from Tournesol along with SunDust this spring."
Tournesol's new sunless tanning product line will feature three new products and be sold alongside Tournesol's independently released, best-selling self tanning bronzer SunDust.
SunPop Self Tanning Towelette: A life saver for those who are new to self tanning and may be wary of accidentally applying lotions unevenly, the SunPop tanning towelettes are easy to use, smell great and dry quickly. Available in two different shades, medium and dark, and conveniently packaged for use anywhere and on the go, SunPop self tanning towelettes are biodegradable and provide a streak free, no mess application. SunPop towelettes are formulated with Algo Tan.
GloGetter: One can't achieve a healthy glow without maintaining hydrated skin and that's why this gradual self tanning cream delivers a seamless all over tan while moisturizing the skin for a radiant all over glow. Formulated with the Algo Tan complex, this BB cream leaves the skin looking instantly luscious, smooth and hydrated.
Sun Serum: This anti aging tanning serum is like a magic potion that can turn any skin or face cream into a self tanning product. Depending on how dark of a tan one desires to accomplish, they can add a few pumps of serum to their favorite product and achieve a tan. Packed with skin nourishing ingredients such as aloe, shea butter, acai, sunflower seed and green tea extract the serum is also formulated with DHA and Algo Tan, a combination which guarantees a longer lasting tan.
SunDust: This two-in-one miracle product gives one an instant brush on bronze glow and also provides a long lasting self tan. Conveniently packaged as a twist brush that provides buildable application for those who are on the go, SunDust has been praised for its easy application and instant, lasting bronze effect by customers.
Only using the highest quality products, the Tournesol team found their special ingredient in Algo Tan. When exposed to UV radiation the body secretes endothelin, a peptide which causes melanin synthesis. Algo Tan acts like endothelin ensuring that you get a natural looking tan without the harmful impact of UV radiation.
ABOUT TOURNESOL
Tournesol believes in safe, healthy, effortless, glowing skin. It has revolutionized sunless tanning by creating amazing formulas with proprietary delivery methods that have never been used before. Combined with skincare rich ingredients, natural oils and botanicals result in the most believable, naturally glowing skin. To learn more please go to http://www.tournesolbeauty.com or follow us on Instagram and Facebook.
MEDIA CONTACT
Megan Wilson
E: mw@meganwilsonpr.com
http://www.meganwilsonpr.com