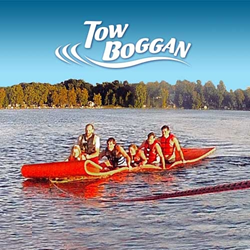 Unlike most towables for boats, the TowBoggan doesn't need to be inflated.
Palatine, IL (PRWEB) March 04, 2014
Just in time for this summer, the ultimate water ride has finally arrived. H2Opod, Inc. are the same wonderful people that brought you the original WaterMat family that features fun, safe and no-hassle lake toys including the immediate availability of their first towable product, "The TowBoggan."
The TowBoggan is the most unique water towable on the lake. Riders can stand, kneel, sit, lie down and even run up and down the 22 foot long, six-person model. There is also a three-person model that's 10 feet long. Tested last summer by riders ranging between ages of 3 and 86, both TowBoggan models received rave reviews and offer the wildest ride ever. Unlike most towables for boats, the TowBoggan doesn't need to be inflated. Simply roll it onto the water, attach it to your watercraft with a 4000 pound rated ski rope and your friends and family are ready to ride. Since it's not an inflatable tube, the TowBoggan can't pop when towed or slowly leak air overnight. Designed for speeds of up to 20 MPH, the patented, poly-tarp encased foam 2" thick TowBoggan is the most durable and reliable water sports toy on the lake.
Not only is the TowBoggan the most durable and towable toy on the lake, it's also the most versatile. Heading over to the Cove or Sand Bar? Bring along a few extra friends on the TowBoggan. When not being pulled, the five-foot wide TowBoggan serves as a terrific place to sunbathe or just hang out on the water.
Like the rest of our floatable and closed-cell foam water toys, the TowBoggan is made in the USA and backed by a one-year warranty. Although the TowBoggan is our only product that can be towed, it shares the same safe, fun and no-hassle promise of the Original WaterMat family that includes the WaterMat Plus, the WaterMat Shark and the DoggyMat. The Towboggan is available today at http://thewatermat.com/store/categories/towables.htm.