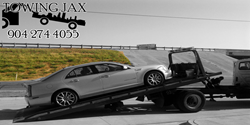 TowingJax Announces DUI Avoidance Towing program for Vehicle Owners in Jacksonville
Jacksonville,Florida (PRWEB) March 12, 2014
People who enjoy socializing during the evenings or during the weekends with drinks and champagnes often don't think much about driving back home under the influence of alcohol. Driving under Influence or DUI is a felony in the United States. A driver who is under influence can potentially not only risk his or her life but also the lives of others. Addressing the issue TowingJax, one of the leading Jacksonville towing service providers, recently announced its own DUI Avoidance Towing program for drivers in Jacksonville.
Click here for DUI Avoidance Towing service in Jacksonville.
Vehicle owners can give a call to TowingJax and they pick them up along with their vehicles and drop them at their destination. While the vehicle owners sit in one of their tow trucks, the vehicle of the owner is safely towed using the tow vehicle.
Highlighting the service offered through the program, the owner of the company said, "We will pick you up and tow your vehicle safely to your destination when you're ready to return home. It's that easy! Passengers will ride in the comfort of one of our tow trucks, whilst your vehicle is being safely towed home for one flat rate!"
Throwing light on how important it is not drive vehicle under the influence of alcohol one of the senior technicians at the company was quoted as saying - "Avoid the inconvenience of having to pick your car up the next day. Even more importantly, take care of you and others – avoid a ticket, jail time after being charged with a DUI."
TowingJax encourages people who drink a few pegs every now and then to not drive under the influence. The better option is to avail the towing services of the company after which there won't be a necessity to leave back your vehicle and come to pick it up the next morning. The company offers its DUI Towing services in Jacksonville at one flat rate throughout the city.
About the Company
TowingJax is one of the popular vehicle towing service providers in Jacksonville. The services offered by the company includes roadside assistance, towing of vehicles of all types including cars, vans and trucks, trailer towing, boat towing and much more.
To know more about TowingJax, or contact TowingJax for any sales enquires visit http://www.towingjax.com.