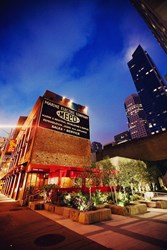 Town Hall's Mardi Gras party may just be the best Fat Tuesday celebration outside of the Big Easy itself.
San Francisco, CA (PRWEB) February 13, 2014
Town Hall restaurant in San Francisco is pleased to announce that their 10th annual Mardi Gras, Fat Tuesday celebration will be taking place on March 4th, 2014.
Fat Tuesday is the day before Ash Wednesday, also known as Mardi Gras. Traditionally it is the day when people eat and drink everything and anything they want. Nowhere is Fat Tuesday celebrated more than in New Orleans, however Town Hall's Mardi Gras celebration in San Francisco is a party sure to rival Bourbon Street.
The doors of Town Hall will open at 6PM and offer up all the festivities one would want out of an event that encourages indulgence. The New Orleans inspired menu will feature unlimited food and beverages including: buttermilk fried chicken, etoufee, gumbo, oysters, BBQ shrimp, ribs, jalapeno cornbread, Abita beer, caipirinhas and hurricanes, along with much more! Keeping with Fat Tuesday tradition, there will be a King cake to end the night on a sweet note.
The D'Amphibians, a Bay Area band that fuses New Orleans soul with jazz and funk will be playing for the crowd throughout the evening while guests mingle amidst face painters, balloon artists and samba dancers. Pose for a picture with your friends with Mardi Gras props as Town Hall has hired a photographer to document all the fun. Town Hall's annual Mardi Gras party is sure to give every San Franciscan a taste of New Orleans.
Town Hall's Mardi Gras tickets can be purchased by visiting the website http://townhallsf.com/mardi-gras.
Tickets are available in advance for $65 per person, and a limited amount of tickets are also available at the door for $75 per person. Ticket purchases include entrance to the event and give the ticket holder carte blanche to unlimited food, beverages and live entertainment.
Laissez Les Bon Temps Roulez!