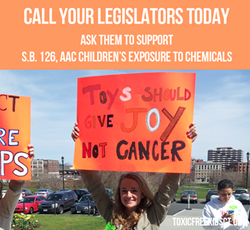 We need our policy makers to understand that shifting away from toxic chemicals in products and reducing exposure to our kids is good for kids and good for business! CT can become the green chemistry hub of innovation by moving in this direction
Greenwich, CT (PRWEB) May 02, 2014
Brown Saddle Films announces phone numbers are available to verbally support by calling State Senator L. Scott Frantz. 1-800-842-1421 within CT. (860) 240-0470 outside CT.
SB 126 Connecticut Senate Bill can be signed and supported by visiting MoveOn.Org.
States that have passed: CA, WA, ME, MN, VT, OR that almost passed this year. NY is being worked on this year.
OpenStates.Org provides a list of Republican and Democrat supporters in favor of the bill.
CleanWater.Org has delivered thousands of signatures to the Governers office in hopes to push along the passing of Bill 126.
"We need our policy makers to understand that shifting away from toxic chemicals in products and reducing exposure to our kids is good for kids and good for business! CT can become the green chemistry hub of innovation by moving in this direction!" Anne Hulick,CleanWater.Org.
Connecticut is not the only state to move forward in making decisions about Toxic Chemical reform. SaferStates.com maps out the 2014 Toxic Chemicals Legislation.
"Thousands of businesses have joined forces to form Companies for Safer Chemicals to advance good regulations for safer chemicals because it will grow business and create jobs. Connecticut can help lead its state by supporting this legislation that will advance business innovation and strengthen the state economy," says David Levine CEO of the American Sustainable Business Council.
Unacceptable Levels film by Ed Brown is a 2013 documentary film about the widespread use of artificial chemicals and their effects on the natural environment and on human health.
About Brown Saddle Films:
Brown Saddle Films is dedicated to exploring subjects with controversial issues relative to the well being of the world we live in today, exposing how it is affecting us now and what the future generations shall be dealing with if change does not take place.