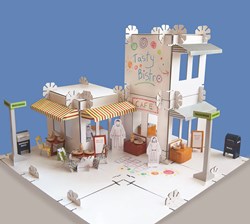 We are so happy to be developing toys that are gender neutral and can be thoroughly enjoyed by both, girls and boys.
New York, New York (PRWEB) February 12, 2014
Eco-friendly craft toy company, Urban Canvas, will be exhibiting at the American International Toy Fair, New York, February 16-19 at the Jacob Javits Center in New York City and will be presenting its new product line which includes a modular building set and a plantable art and science kit.
Urban Canvas' newest addition, City Stories, is a build-and-play set that provides kids with an engaging play experience. With the set, Children can tap into their creative and entrepreneurial spirit to plan and build a store of their dreams with an elaborate street setting around it. The set comes complete with furniture, tableware and street fixtures so children can immerse themselves in role play while they hone their spatial thinking skills. In addition, kids can use their artistic ability to draw decorative details and design their own store signage on the set's crayon erasable surface. Children can erase what they don't want as easily as the set can be rebuilt into any storefront configuration or street scene.
Urban Canvas is also gearing up for the Spring season with Sprouts, a new art and science kit for creative and curious kids. With Sprouts, girls and boys can build and decorate a grasshopper and scorpion sculpture along with two bookmarks, all made from seeded handmade die cut paper. Once kids are done decorating and playing with their sculptures, they can plant the paper into soil. In a few days, they will be delighted to see basil and wildflowers sprout to life!
"We are very excited by our new toys," says founder, Maria Chee. "A lot of toys in the market today are gender specific which can be limiting for young children. We are so happy to be developing toys that are not only innovative and eco-friendly, but are gender neutral as well. Girls and boys can play together and thoroughly enjoy an engaging experience with our new toys."
Urban Canvas' complete line of toys will be on display at booth #6050 in the Arts and Crafts section at the American International Toy Fair in New York during February 16-19, 2014. For more information about the American International Toy Fair 2014 visit http://www.toyfair.org.
About Urban Canvas:
Urban Canvas is committed to preserving the environment and developing arts and crafts toys that stimulate artistic growth in children. Urban Canvas toys are three-dimensional sculptural canvases for children to build, decorate, play and display. Urban Canvas promotes recycling, reducing landfill waste and increasing the overall health of the planet for our children.