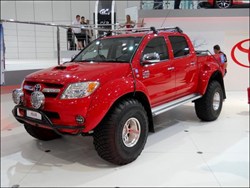 We sell rebuilt and used foreign transfer case units
Indianapolis, Indiana (PRWEB) August 04, 2013
Toyota has stepped up its production of pickup trucks in North America over the past 20 years. Increased competition between Ford and Chevrolet has caused new designs to be included with the Toyota truck series. The TransferCasesforSale.com company is now including Toyota truck transfer case inventory online at http://www.transfercasesforsale.com/truck-transfer-case.
"These units are designed to help owners of trucks performing their own drive train work," a rep from the Transfer Cases for Sale Co. said.
Foreign pickup trucks can be one of the most difficult builds to find parts for when components need replaced.
The Toyota brand of truck assemblies are part of an important vehicle inventory upgrade promoted this year.
The lack of distribution in North America for pickup truck parts produced in other countries has created more demand on the consumer market for finding sources able to meet demand.
"We sell rebuilt and used foreign transfer case units," the rep added. Building the company inventory of parts for sale is now a regular part of the daily operations by this company. Partner suppliers able to supply different builds and manufacturer units are now used to provide the company inventory for sale.
Consumers purchasing foreign truck drive train parts can keep up with all inventory changes and price promotions that are announced online by visiting the company content management system at http://www.transfercasesforsale.com/blog. This new section is updated continuously with information that is not always syndicated through media partners.
About TransferCasesforSale.com
The TransferCasesforSale.com company retails rebuilt and previously owned transfer case units directly to the public. The units are supplied for reduced pricing to allow each consumer to save money when purchasing a worn unit. The warranty details that are attached to each consumer sale is making all purchases worry-free online. The TransferCasesforSale.com company is now distributing all parts from its inventory in the U.S. without charges for freight or other delivery fees. Trained company specialists are available by toll-free number and through the online feedback system now in place.