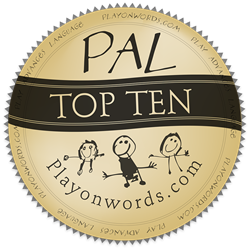 I value that Sherry as a credentialed speech therapist really gets the learning features of our games!
(PRWEB) November 18, 2013
http://playonwords.com/ Daily interaction with children guides Playonwords founder, Sherry Artemenko, to a unique set of the best toys, games and books that have the chemistry to develop language while delivering great play. Today, Playonwords is announcing the "Top 10 PAL Picks of 2013" by age and product category. Our Top 10 Picks take the guesswork out of gift giving for the holidays. Parents and grandparents are using our list to shop for smart toys with lasting play value.
Each product has been tested and reviewed by Sherry with input from parents, kids and educators. Observing kids in action, combined with her critical eye for language potential, Sherry awards products and writes insightful reviews offering practical tips on how to maximize the educational value in each winner on playonwords.com.
Watch a baby discover, learn and vocalize inside a Wonder Whale of dangling sea animals, a child experiment with the properties of magnets as they construct and animate Tommy Train, escort a princess to the castle with Fairy Tale Blocks or produce a show with a Puppet Theater than can transform into a food stand.
Sherry's expertise has been tapped by NBC Connecticut TV, The Chicago Tribune, parenting.com, ASHAsphere, official blog of the American Speech Language Hearing Association, ASHA LEADER magazine, and ASTRA's blog, The Whoo Hoo Factor.
For Sherry, great play is not just about fun, or cognitive development, it's about going deep on both. Her expertise has been built on science and more than 15,000 hours of client experience. Each set of Top 10's represents a breadth of themes and genres, but they all have one thing in common - they are trusted lists of fun products that educate through play.
Here are our 2013 TOP 10 PAL Picks:
TOP 10 TOYS: INFANT AND TODDLER

Elf Grenadine's Heart by Corolle
Grow-With-Me Activity Gym and Ball Pit by Infantino
Mighty Mini Band by Hape
NogginStik by SmartNoggin Toys
1.2.3 Take Along Fire Station by Playmobil
See 'n Spin Alphabet Rack by B kids
Stack 'n Squirt Pals by B kids
Trampili Elephant Music by Steiff
Walk-Along-Snail by Hape
Wonder Whale Kicks and Giggles Activity Gym by Infantino
TOP 10 TOYS: PRESCHOOL

Bebe Bath and Accessories By Corolle
Easy Turn Coupe by Step2
Fairy Tale Blocks by Plan Toys
Fire Station by Hape
Puppet Theater by HABA
Little Hedgehog Puppet by Folkmanis
Racing Round Stacking Pyramid by Janod
SmartMax Tommy Train by Smart Toys and Games
Story Circus Baby Train by Janod
Take Along Modern Doll House by Playmobil
TOP 10 TOYS: SCHOOL AGE

Alpaca Puppet by Folkmanis
Artzooka! Recycle Sticker Creations by Wooky Entertainment
Artzooka! Surprise Match Boxes by Wooky Entertainment
Base Kit by littleBits
Friends Heartlake City Pool by Lego
Nancy B's Science Club Microscope and Activity Journal by Educational Insights
NYC Christmas Puzzle by Ravensburger
Western Fort by Playmobil
Smaland Doll's House by Lundby
Super Sized Floor Puzzle USA Map by Ravensburger
TOP 10 GAMES: PRESCHOOL

Animal Soup The Mixed-Up Animal Board Game! by The Haywire Group
Bugs In The Kitchen by Ravensburger
Disney Jake and the Neverland Pirates Shipwreck Beach Treasure Hunt Game by Wonder Forge
Disney Sofia the First Magical Tea Time Game by Wonder Forge
Disney Sofia the First Royal Prep Academy Game by Wonder Forge
Hello Sunshine! by ThinkFun
Loco Lingo Kindergarten by HABA
On The Farm Who's In The Barnyard? by Ravensburger
Skunk Bingo by Gamewright
The Great Cheese Chase by Peaceable Kingdom
TOP 10 GAMES: SCHOOL AGE

Doodle Jump by Ravensburger
Justice League Axis of Villains Strategy Game by Wonder Forge
Ooga Booga by Blue Orange Games
Qualities by SimplyFun
Rhyme Out: The Triple Rhyming Game by Educational Insights
Rory's Story Cubes Voyages by Gamewright
Teenage Mutant Ninja Turtles Clash Alley Strategy Game by Wonder Forge
That's It! by Gamewright
What's It? by Peaceable Kingdom
WordARound by ThinkFun
A Home For Bird by Philip C. Stead
Alphabet Anatomy: Meet The Capital Letters by Linda Ann Jones
Green by Laura Vaccaro Seeger
Little Red Writing by Joan Holub and Melissa Sweet
Magic Forest Friends by HABA
Penguin And Pinecone by Salina Yoon
Pig Has a Plan by Ethan Long
Red Cat Blue Cat by Jenni Desmond
The Ant and the Grasshopper by Rebecca Emberley and Ed Emberley
Up! Tall! And High! by Ethan Long
Each holiday season millions are spent on kids' toys, games and books. These PAL winners above are not only great fun, but also encourage rich language development. Think "tastes like ice cream, fortifies like spinach," optimizing your toy purchases to build language while maintaining every bit of fun. Now's the time to be intentional about your child's toy chest, game drawer and bookshelf!
ABOUT PLAYONWORDS, LLC
Playonwords.com was founded by well-respected speech-language pathologist, Sherry Artemenko, a 35 year champion of language driven play. Her esteemed PAL Award, popular blog, and helpful tips to parents set her apart as a leader advocating the language component in toys.
Over 15,000 hours working directly with children has shown her that a unique set of the best toys, games and books have the capability to develop language while delivering great play. Studies show:

Kids with highest IQs at three, had the most words at one and two
Language learning is cumulative – early words => early sentences => language and reading
Most kids maintain their verbal advantage through childhood
Sherry established the PAL Award to identify unique toys, games and books that through their design, quality and character, encourage play that advances language. PAL winners in the hands of kids, spark fun and creative play with lots of talk. Such toys, recognized on the basis of her child development expertise, are complemented by practical coaching in her blog, showing parents and caregivers how to get the most from toys, games and books to build language and underlying cognitive skills.