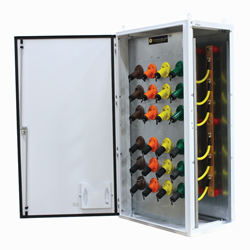 TPC knows that time is money and downtime is lost money.
Macedonia, Ohio (PRWEB) November 13, 2014
TPC Wire & Cable Corp., a leading supplier of wire, cable, connectors and assemblies, is pleased to be exhibiting at Power-Gen® International in Orlando, FL December 9-11, 2014. The company will introduce its temporary power "plug and play" products that are designed as a critical component to emergency preparedness plans or a quick solution for a general maintenance plan where portable power is required. TPC will occupy booth number 3285 during the event.
Power-Trex® product solutions, for temporary and emergency power, can be custom-designed to meet the specific emergency power needs of a facility. TPC will handle the entire project whether it's simply a cable and connector assembly to full deployment and storage options. These turnkey solutions can easily be deployed by maintenance and non-maintenance personnel alike in the event of an unexpected power loss. TPC's experts will develop a strategy to fit into the facility's emergency preparedness plan.
TPC's Engineered Products Department can design a custom solution for any cable assembly application. Because TPC knows that time is money, and downtime is lost money, the company provides a full range of crimping, termination and cutting capabilities to satisfy temporary power needs and keep machinery running to its full capacity. Options range from standard or custom lugs and terminals, custom terminations, custom cutting, custom marking and packaging and more.
"We're excited to roll out this program to other markets after supporting the United States Nuclear Industry with their FLEX/Fukushima initiative," said Jay Hathaway, Business Development Manager at TPC. A custom temporary power strategy can benefit virtually any market including food and beverage, oil and gas, transportation, mining, utilities, steel, medical and government facilities.
About TPC Wire & Cable Corp.
TPC Wire & Cable Corp. is a leading supplier of wire, cable and connectors used in harsh industrial environments. TPC Wire & Cable's products are designed and engineered to withstand harsh conditions including abrasion, chemicals, constant flexing and extreme temperatures. TPC serves a variety of markets including the steel, utility, mining, automotive, food and beverage, government, oil and gas, transportation and wood, pulp and paper markets. The company's long-lasting, dependable wire and cable products solve the most difficult application problems in the harshest environments resulting in lower overall costs and increased production time. TPC products outperform and outlast ordinary cable 10:1. For more information about TPC Wire & Cable products, visit http:// http://www.tpcwire.com.