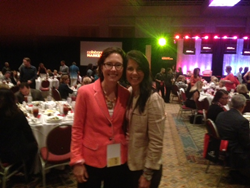 Meeting planners are urged to lock down contracts further out.
San Francisco, CA (PRWEB) July 28, 2015
Collaborate Marketplace is an annual educational conference and appointment-only trade show. The event, while still relatively young, continues to gain respect and attendance. With its packed agenda, the conference brings together some of the most active planners, suppliers, and experts in the events industry for three days of general sessions, workshops, speaker presentations, and pre-set networking appointments.
One of the trends that emerged from the myriad topics discussed was the healthy corporate event landscape and resulting compressed hotel availability. Meeting planners are urged to lock down contracts further out as face-to face gatherings remain a valuable company investment. When polled on their use of marketing assets, the CMOs of the fortune 1000 recently stated that their greatest ROI comes from events – all this while the cost of travel, hotel rooms, and food continues to rise.
Another hot topic was third party event planners and their gained confidence in expressing their value. As master coordinators, third parties successfully unite cultures, provide educational environments, align management, and motivate sales. It was even suggested that third party planners are, in a sense, responsible for business profitability, for without gathering to create a collective understanding of company culture, goals, and sales objectives, there can be no clear direction forward. It is true that third party planners are responsible for delivering the goods and services that amplify business objectives in impactful ways.
While the meeting's broader focus was on educational content and networking, the three days also provided a host of excellent speaker presentations. Chelsea Clinton thanked the industry for bringing people together, suggesting that inspiration and change comes through the assembly of like-minded individuals. Gabby Giffords motivated everyone with her positive attitude and while her speech was short, her words rang true. She was preceded by her husband, Mark Kelly, who wowed the audience by describing his trips to space. Anderson Cooper was incredibly engaging and brought the house down with his quick wit and irreverent humor.
From intelligent sessions to networking opportunities to memorable speakers, Collaborate Marketplace was a huge success, and TPG looks forward to being there again in 2016.