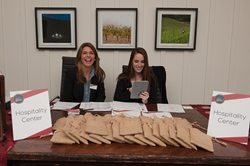 Companies that help employees and customers feel better about themselves influence the full cycle of that 24/7 engagement.
San Francisco, CA (PRWEB) March 08, 2016
Connectivity 24/7 can be exhausting and social media can feel invasive. Employees respond to work texts during episodes of Homeland; leaders respond to personal texts during business meetings. We've entered an age where work and play have fully-integrated. To be successful, companies must acknowledge a person's total life, showing a little heart when pushing the body and mind.
So how do companies fill such a tall order? First, let's address one opportunity for broad impact … meetings. Meetings are part of a multibillion dollar industry. Meetings are where great numbers of people gather to immerse in business content and culture. In keeping with the adage show don't tell, corporate events are the perfect time to show employees you care. According to studies by Convention Industry Council, one of the corporate activities meeting-goers most value is face-to-face interaction – so don't blow it.
Certainly meetings are about education, motivation, brainstorming, business development, and relationship building, but they are also about head-heart engagement. They are an opportunity for employees and customers to walk away feeling better about the company and themselves. Companies that help employees and customers feel better about themselves influence the full cycle of that 24/7 engagement.
Caring about attendees as individuals has not always been the norm. The corporate events industry saw its boon in the eighties, a time when attendees were called, simply, pax. Not a very warm and fuzzy nickname. This coalesced with cattle-call phrases urging meeting planners to get "heads in beds" and "butts in seats."
Social media has at least forced planners to refer to their conference-goers as "participants." In the truest sense of the word, participants are now participating in a meeting or conference, rating speakers in real-time, driving engagement and market reach through hashtags and selfies. In addition, participants' needs are becoming personalized through healthier meal choices, AM yoga practice, and small touches like cool seating options (iPad note-taking works just fine in a beanbag chair).
The meeting industry has come a long way. Now it's time for the next step along the feel-good journey from "pax" to "person." When business blends with personal day after day, the meetings industry had better address the personal. Companies measure their own event ROI when, really, they should consider the participant's individual ROI. So what is the hyper plugged-in attendee looking for? Personal growth? Professional development? Better relationships outside the office? Perhaps, we should ask them.
Marriott Hotels is already anticipating a sea change in meetings and events, stating, "it's not just about physical health, it's also the emotional, spiritual, and social aspects of life. Attendees no longer consider meetings to be the place where their normal routines go out the window. They want help continuing their healthy behaviors on the road."
The Performance Group (TPG) is also getting ahead of the curve. The company recently launched a companywide ethos, sharpening their focus on the Radically Undivided self. Debbie Parsons, President of TPG, explained, "By marrying the work-self to the play-self, we help our client's and their participants become Radically Undivided. They are yogis and business leaders, artists and strategists."
"This has always been part of our company philosophy. Now we have a term that defines how we engage with our clients," Jennifer Pointer, VP of Sales & Marketing, explained. "We want the events we deliver to address the whole person – the 24/7 personalized professional."
The litmus test for this concept was TPG's For the Love of YOU retreat held in Napa, California. During the three-night event, guests were pushed to align their mind-body-behavior through intense yoga, talent assessments, edgy table conversations, and inspirational speakers. Everything from meal settings to gifts felt personal in ways that evoked emotional engagement. As an example, Road 22 was there offering t-shirts through a mini trunk show. A luxury basics clothing company, Road 22 employs formerly incarcerated women. Rachel, who was their first employee and formerly incarcerated herself, moved the audience through her own story. One of the participants at For The Love of YOU said it best, "I've been to countless events. This was the first time one focused so heavily on me. Some companies give me stuff; this was a gift, in the truest sense of the word."
The outcome was phenomenal and those who participated wrote TPG veritable love letters, some stating that their lives were changed through the authentic engagement. "This event prompted us to take the term 'event logistics company' right out of our vernacular," Debbie Parsons, elaborated. "We are now connection connoisseurs, pushing participants to care about both their work and their own personal development. Simply said, happy employees equal company success."