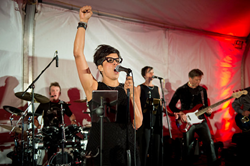 2016 Notes & Words most successful to date.
San Francisco, CA (PRWEB) May 12, 2016
Brainchild of author Kelly Corrigan (The Middle Place, Lift, Glitter and Glue), Notes & Words is an annual fundraising event that brings authors and musicians together to perform on one stage. The event just wrapped-up its seventh year with thousands of audience members turning out to support UCSF Benioff Children's Hospital Oakland.
The evening began with TPG hosting a private customer cocktail reception at the Claremont Hotel and Spa. The intimate setting was held in the Hillary Tenzing room which showcases stunning art and photography that was collected by the Claremont's own Richard Blum on his personal travels to Tibet and Bhutan. The boardroom is dedicated to the famous mountaineer, a friend of Blum's, and his infamous Sherpa. The duo was first to climb to the top of Mount Everest - a fitting local for an agency that deals in corporate travel.
The adventure continued as TPG and guests made their way to the Fox Theater. Kicking off the show was a young woman whose talents were recently discovered in the emergency room at Children's Hospital. Previously unknown, she blew the audience away with her strong voice. Kelly Corrigan served as the evening's Master of Ceremonies, and she read a passage from her book, Glitter and Glue. The piece was about her ongoing volunteer work at Children's Hospital. Accompanied by a cello, Kelly described her time holding preemie babies in the neonatal intensive care unit while their parents are away at work. Writer and publisher, Dave Eggers, and writer and actor, BJ Novak, played off each other with their intelligence and wit. Rock and Roll band, The Stone Foxes, got the audience on its feet, but it was Chris Martin from Coldplay who stole the show. The charismatic performer pulled themes from previous speakers, and had an audience member record him with an iPhone and then "accompany" him on stage. For his heartfelt finale, Chris played with the children from the Oakland School of Performing Arts.
The evening ended with an afterglow party in a VIP tent hosted and designed by TPG and Dalton Fine of So Fine Event Design. The tent environment emphasized simple elegance with neutral colors and décor elements pulled from nature. The hit of the after party was the silent disco – supplied with headsets, audience members could choose which DJ they wanted to tune into while the danced. The big surprise was MC Hammer who mixed tunes effortlessly and worked the crowd. Those guests wanting to end the evening on a quieter note could remove their headsets and enjoy an engaging conversation.
All in all, the evening was a success, and Notes and Words coordinators stated that it the most successful fundraiser to date.