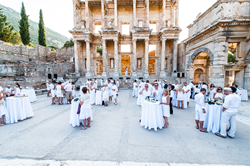 The new look invites visitors to stay awhile and check us out.
San Francisco, CA (PRWEB) April 28, 2016
An effective company website refresh should garner marketplace recognition, deliver a clear message, confirm credibility, and connect with customers. While TPG's website has achieved these goals in the past, the company thought the time was right to tighten-up some of its online assets. Jen Pointer, VP of Sales and Marketing at TPG, explained, "We want our customers to visit our website for rich and relevant content. We also want our blog posts and Instagram feed to reflect who we are as a sophisticated yet creative and fun agency. Finally, we needed to better highlight the charitable causes that are important to us, like Notes & Words."
TPG's beautifully designed website refresh offers a clean look, easy navigation, and loads of educational content that's been re-vamped to educate TPG's clients about how the company helps them gain broader impact from their corporate meetings, conferences, and incentive travel. The photography is stunning and drawn from TPG's own body of work – a true visual journey and testament to the impactful events TPG creates to inspire and motivate their client's attendees.
Behind the design, TPG focused on the content, titles, and subtitles that would support greater search engine optimization. TPG understands that the Bay Area holds a plethora of event planning companies, and they wanted to expand their web presence. Additionally, the company updated several pages stylistically to improve the user experience and to create a more dynamic site in general. Examples include an interactive case studies page and easy to find press releases and company videos. "My favorite part about the website is the cool Pinterest look with our blog and press release pages," Jen concluded. "The new look invites visitors to stay awhile and check us out."
While increasing SEO, overhauling content, and up-leveling page design might seem like a tall order for a website refresh, TPG partnered with Kim Senn from Calico Ghost Creative to get the job done. Web design companies, like Kim's, keep the overarching job on task and company message and brand on point.
To visit TPG's newly refreshes website, please visit http://www.tpgnc.com