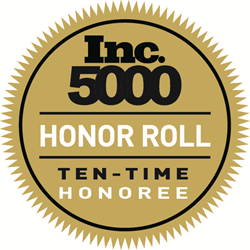 Cincinnati, Ohio (PRWEB) September 09, 2014
Total Quality Logistics (TQL), a third-party logistics provider headquartered in Cincinnati, Ohio, has reached a benchmark few others have reached -- this is the 10th time TQL has appeared on Inc. Magazine's exclusive ranking of the nation's fastest-growing private companies.
Generating more than $1.6 billion in revenue in 2013, TQL is the only company in the logistics and transportation industry to reach the ten-time benchmark, and one of only 14 companies overall to be on the list ten times or more.
"This is a tremendous achievement. We want to extend our sincerest thanks to our employees and our carriers who work tirelessly every day to keep America moving, and to our customers for the trust they place in us," said TQL Executive Vice President, Kerry Byrne. "Next week is National Truck Driver Appreciation Week and the men and women in this industry deserve to be recognized."
TQL was also featured in last year's Inc. Hire Power Awards as one of America's top job creators, creating 642 new jobs from January 1, 2012 through June 30, 2013. Today, the company employs more than 2,800 people in 27 offices and 16 states across the country.
The 33rd annual publishing of the Inc. 500|5000 list is on newsstands until November 30. To be eligible for the list, companies must have been in business for the last 5 years, generating revenue in each of those years.
About TQL
TQL is one of the largest freight brokerage firms in the nation, with more than $1.6 billion in annual sales and employing more than 2,800 people nationwide. TQL helps customers move their products from point A to point B by connecting them with quality transportation providers. TQL works with more than 50,000 carriers across North America, giving the company access to hundreds of thousands of trucks. TQL identifies the right trucks for particular freight loads, negotiates rates, and monitors shipments from the moment of pickup through delivery. The company's insistence on honest, straightforward communications and 24/7/365 operations minimizes missed shipments, delays, and product shortages on store shelves. For more information, visit http://www.tql.com.
About Inc. and the Inc. 5000
Founded in 1979 and acquired in 2005 by Mansueto Ventures, Inc. is the only major brand dedicated exclusively to owners and managers of growing private companies, with the aim to deliver real solutions for today's innovative company builders. Total monthly audience reach for the brand has grown significantly from 2,000,000 in 2010 to over 6,000,000 today. For more information, visit http://www.inc.com/ .
The Inc. 500|5000 is a list of the fastest-growing private companies in the nation. Started in 1982, this prestigious list of the nation's most successful private companies has become the hallmark of entrepreneurial success. The Inc. 5000 Conference & Awards Ceremony is an annual event that celebrates their remarkable achievements. The event also offers informative workshops, celebrated keynote speakers, and evening functions.
For more information on Inc. and the Inc. 5000 Conference, visit http://www.inc.com/.