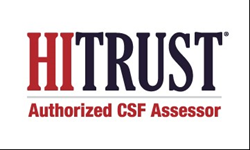 "We are proud to be a provider of HITRUST CSF assessments," said Ryan Castle, COO, TraceSecurity. "This achievement showcases our dedication and commitment to offering industry recognized best-in-class security services and solutions to healthcare organizations and other industry partners."
BATON ROUGE, La. (PRWEB) May 23, 2019
TraceSecurity, a leading provider of cybersecurity and compliance solutions, today announced that it has been designated as a HITRUST CSF Assessor by HITRUST. With this achievement, TraceSecurity is now approved to provide services using the HITRUST CSF, a comprehensive security framework that addresses the multitude of security, privacy and regulatory challenges facing organizations in order to comply with healthcare (HIPAA, HITECH), third-party (PCI, COBIT), government (NIST, FTC) and other industry specific regulations and standards.
CSF Assessors are critical to helping uphold information security and privacy standards for various industries of varying size and complexity and are a core component of the HITRUST CSF program by providing trained resources to assess compliance with security control requirements and document corrective action plans that align with the HITRUST CSF. HITRUST CSF Assessors such as TraceSecurity serve as a key component of the program by providing assessment and remediation services to all industries that deal with PHI and/or PII.
"We are proud to be a provider of HITRUST CSF assessments," said Ryan Castle, COO, TraceSecurity. "This achievement showcases our dedication and commitment to offering industry recognized best-in-class security services and solutions to healthcare organizations and other industry partners."
"We are pleased to have TraceSecurity as a CSF Assessor to help organizations with the process of adopting and utilizing the HITRUST CSF's requirements and give their customers confidence in the protection of their information," said Ken Vander Wal, Chief Compliance Officer, HITRUST. "The company's long-standing expertise and leadership in IT privacy and security solutions make it a perfect addition to our program."
For more information about TraceSecurity, please visit http://www.tracesecurity.com.
About TraceSecurity
TraceSecurity is a leading provider of cybersecurity and compliance solutions that help organizations of all sizes reduce the risk of cyber breaches and demonstrate compliance. TraceSecurity offers a comprehensive portfolio of solutions that allow organizations to manage their information security program and supplement it with third-party validation and testing. TraceSecurity's suite of information security services includes IT risk assessments and audits, social engineering, penetration testing, and security training. With market experience that spans over 3,000 customers, TraceSecurity offers the insight, products, professional services and partners to support the security and risk management efforts of organizations of all sizes across all industries.