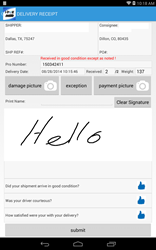 Huntington Beach, CA (PRWEB) August 28, 2014
Freightgate, a global provider of Logistics Cloud Solutions, releases new I-Trek! Mobile Tablet Application to improve delivery driver productivity and real-time shipment tracking. I-Trek! Mobile provides seamless integration to Freightgate's Cloud-based I-Trek! Shipment Track and Trace Solution. A powerful supply chain visibility application designed to sharpen a company's competitive edge by providing tracking and tracing and event management information along the entire global and domestic supply chain.
I-Trek! Mobile utilizes cloud-based Internet connectivity to collaborate with customers and trading partners by sharing vital shipping information. It enables all parties to simultaneously update the status of a shipment or to track a shipment by multiple parameters including Billing Reference, Shipper Reference, Consignee Reference, PO Numbers, Shipment Status, Date Range and much more. I-Trek provides decision support tools to make real-time informed decisions that can have a major impact on bottom line performance.
The I-Trek! Mobile Android Tablet App enhances real-time shipment visibility allowing delivery drivers to submit instant delivery notifications. It eliminates manual and paper processes providing proof-of-delivery verification immediately with complete delivery details, electronic signature receipt, and exceptions. I-Trek! Mobile Features Include:

Real-time driver & delivery status with timestamps
Proof-of-delivery & signature capture
Make signature mandatory
Ability to attach pictures to condition reports
Accepts COD check payments upon delivery
Captures non-delivery reason
Improves settlement process with damage report and photos
Customize your own list of reasons for non-delivery and item rejection
Sends real time delivery status notifications
Improves customer and driver satisfaction
Collect data to measure KPIs
Delivery Route management including Planned vs. Actual analysis
Improves time management, drivers can make more deliveries per day
Application works online and offline
Empowers delivery team to become information workers
Reduce or eliminate data entry errors in the field.
Reduce or eliminate paper waste, double-work, re-keying data, and other costly inefficiencies
Interface is very intuitive and driver-friendly
I-Trek! Mobile can be customized and branded for your specific needs. For more information schedule a no-obligation demonstration of I-Trek! Mobile App, please complete the form at http://www.freightgate.com/demo or call Freightgate Sales at (714) 799-2833.
Freightgate's Logistics Cloud Platform, known as the Freightgate Universe, enables solutions empowering professionals on all levels to collaborate with global vendors and logistics providers seamlessly on a single common transportation sourcing platform for informed decision-making across the entire network. It encompasses ISO9001:2008-certified end-to-end transportation management processes from procurement, rate management, optimization, execution and visibility, carbon footprint, through invoice audit & pay. The Freightgate Universe is comprised of adaptive easy-to-deploy modules to help companies leapfrog into the 21st century with minimal start-up cost. Freightgate is the only commercial EFM compliant platform enabling standardized web-services as promoted by the US-DOT and Transport-Canada.
About Freightgate
Based in Huntington Beach, California, the Freightgate team has been developing Internet solutions for the freight and logistics since 1994, such as its industry-leading Logistics Cloud Platform, offering Supply Chain Collaboration & Visibility; TMS, Global Tender Bid Management; Least Cost Routing, Service Contract and Quote Management; Regulatory Compliance CBP and FMC; Automated eInvoice Audit and Payment; innovative What-If-Scenario Analysis tool; interactive online Sailing Schedule; BFN (Built for NetSuite) approved SuiteApps. Freightgate is ISO 9001:2008 certified. Visit Freightgate at http://www.freightgate.com.