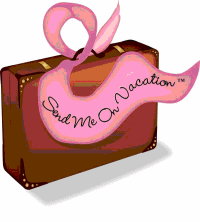 Las Vegas, Nevada (PRWEB) March 14, 2014
Send Me On Vacation is excited to announce yet another charity event that will directly benefit breast cancer survivors. On April 5, 2014, timeshare and vacation industry professionals will convene at the South Point Hotel, Casino and Spa in Las Vegas before the ARDA World Convention for the TrackResults "Go All In To Help Cancer Survivors Win" poker tournament.
TrackResults, the only company in the industry to offer real-time and cloud based analytics that can increase the bottom line of sales and marketing centers, is proud to be partnered with this incredible charity. Send Me On Vacation is a 501 (c)(3) non-profit with the mission of sending breast cancer survivors on vacations to heal their mind, body and spirit after completing treatments for breast cancer. Because of the devastating effects – both financially and physically – that cancer treatments can have, these women are not always able to get away and clear their mind of the strenuous journey they have just endured. This is where Send Me On Vacation comes in.
Last year, Send Me On Vacation sent 22 deserving women on vacations around the world. This year, the charity hopes to double that number. The "Go All In To Help Cancer Survivors Win" will play a big role in raising funds to send these incredible women on the vacations that they need and deserve.
The poker tournament will be hosted by timeshare software TrackResults, with all of the proceeds going to the company's charity of choice: Send Me On Vacation. A total of 11 tables will be included in the poker tournament. Ten of the tables will be sold for a buy-in of $2,500. Final table level of sponsorship is still available and up for grabs. Each table features nine seats and will prominently display which company has donated to SMOV.
"TrackResults never ceases to amaze us with their open-hearted generosity and their unique ideas to support Send Me On Vacation, sending in-need cancer survivors on a well-deserved vacation following treatment," said Send Me On Vacation's President, Cathy Backus.
At the end of the night, a cash prize will be given to the player who wins the tournament. Throughout the night, other prizes will be given to other winners including items such as Las Vegas dinner vouchers, electronics, signed sports memorabilia, Las Vegas show tickets and much more. SMOV is also looking for donations for a silent auction that will happen simultaneously during the poker tournament.
The tournament will most likely be limited to 10-12 tables. Most of these tables have been sponsored/sold already. The major sponsors that have already committed to this cause are: Travel To Go, Merlin Software, Breckenridge Grand Vacations, SaveON Resorts, Westgate Resorts, Festiva Hospitality, Wells Fargo, Brag Fire, Leisure Loyalty, and TrackResults.
"'Investing in the future' has always been a hallmark of The March Group of Wells Fargo Advisors," Nico F. March said, the Senior Vice President and Senior Institutional Consultant of The March Group of Wells Fargo Advisors. "The ability to help the great folks at Send Me On Vacation and invest in the future of worthy individuals is even more fulfilling."
Table-buyers and donators are extremely excited to be a part of this great event, and to donate to such a worthy cause.
"It is Merlin's first time supporting Send Me On Vacation," said Director of Business for Merlin Software, Mike Ashton. "I have seen first-hand at a C.A.R.E. conference the different this program makes and we are very proud to help in our small way."
For companies or individuals interested in sponsoring a table along with a survivor, or to become a "prizes" sponsor for recognition to help the cause, contact Todd at todd(at)trackresults(dot)net. For those who would like to donate an item to the silent auction or make a donation to Send Me On Vacation, contact Cathy Backus at backuscathy(at)gmail(dot)com.
For more information about the event, visit http://www.trackresults.com/poker.
********
Press release distributed by Reputation Maxx, a leader in online reputation management and part of a family of companies that includes Prensa Ahora and Enterate Ahora.