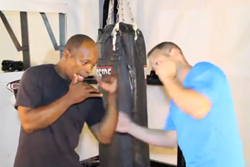 We are thrilled to offer our video series as a healthy and powerful Holiday gift option, because within it we have placed the keys to the kingdom of health and fitness…
New York, NY (PRWEB) December 05, 2013
Two-time world champion Tracy Patterson and boxing training expert, Vinny Furlani, announced the anticipated release of their DVD series, entitled Train Like a Champ, available today, December 5, at http://www.ArtofBoxingTrainLikeaChamp.com. The joint production is based on Furlani's 10-Point Strategic Boxing System, and exposes details of what the two experts classify as boxing proper form.
"The exercises illustrated in our videos will not only prepare the fighter aspiring to become a pro, but also provide an effective, full body workout that strengthens the body and the mind," said Furlani.
According to a study released by Statistic Brain last year, weight loss and self-improvement head the list of most popular resolutions people make during the holidays for the new year. Confirming the timeliness of Train Like a Champ's release, Vinny Furlani added, "We are thrilled to offer our video series as a healthy and powerful Holiday gift option, because within it we have placed the keys to the kingdom of health and fitness… We propose a program that is fully engaging and efficient, so those new year resolutions don't disappear by mid-January."
The released DVDs appeal to individuals looking to achieve great fitness conditioning, while it also serves as a step-by-step guide for boxers and boxing aspirants. Equipped with detailed exercises and illustrations of proper classic boxing form, the series embodies the concepts and techniques known to build real champions, from the old days until today. "The best fighters of all times have all been influenced by 'old school' boxing training, and we want to bring that back, to people's homes, to the neighborhood gym… Teaching how to fight the right way, from the start," continued Furlani.
To fulfill that mission, Vinny and Tracy joined forces and inaugurated a full plan that integrates many elements of boxing training, in which the video series is an essential item. The various levels of pledges and offerings bundle up a number of perks to reveal an average of 40-60 percent discount off of original individual prices. The options start at $5, granting access to Furlani's thorough white paper, which describes the techniques included in the 10-Point Strategic Boxing System. The highest package level goes up to $10,000, and includes 10 days of hotel stay, 10 personal training sessions – 5 days with Vinny Furlani, 5 days with Tracy Patterson -, and 2 video packages: Typhoon Technique, 10-Points, One Goal - Pure Boxing Excellence and Train Like a Champ. The full program and the 13 pledge options are available at http://www.fundable.com/art-of-boxing-train-like-a-champ-llc?email_message_token=3br9pwivwyeo4hlmvnzxr45xj6whrc9k.
To learn more about Vinny Furlani, his 10-Point Strategic Boxing System, or subscribe to Art of Boxing Magazine, fans and fighters can visit http://www.ArtofBoxingMag.com. Subscription to Art of Boxing Show podcast is available at http://www.ArtofBoxingShow.com.
About Vinny Furlani
Vinny has been exposed to boxing for close to 30 years, being active in the sport for 15 of those years (either fighting or coaching). Starting his fighting training at 18 years old, Vinny was coached for 11 years by former Olympic Gold Medalist and 2-time Heavy Weight Champion, Floyd Patterson, a follower of the legendary Cus D'Amato model, which has been proven through the success achieved by Mike Tyson. Vinny Furlani has fought against Champions and renowned fighters, and debuted on the National stage in 1987. In 1988, he joined the USA International Amateur Boxing Team and became a professional fighter later that year, fighting an undercard match during teammate Tracy Harris-Patterson's main event. After a brief professional career, he moved on to coaching fighters participating in New York's Golden Gloves, even assisting in Patterson's corner in several other matches. More information is available through http://www.artofboxingmag.com and http://www.artofboxingtrainlikeachamp.com.