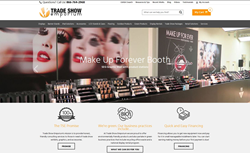 A live shopping cart. This may be the most impactful addition to their new website for clients.
Denver, Colorado (PRWEB) May 04, 2016
Starting and maintaining a successful business is rare (90 percent of startups fail according to Forbes). It's even rarer to stick around long enough to cultivate a strong sense of identity. And, one of the rarest feats in business is actually enduring different eras. The Webster Dictionary defines an era as a long and distinct period of history with a particular feature or characteristic. In the case of Trade Show Emporium, their new website marks the end of an old era, and an exciting entrance into a new one.
Since the mid-point of 2015, Trade Show Emporium has been hard at work crafting a new website to improve the experience of their new customers and well established client base. They wanted to take all of the features of the beloved old site, and implement some user friendly updates to enhance the shopping experience for future trade show attendees and general purpose shoppers as well.
A live shopping cart. This may be the most impactful addition to their new website for clients. Any product they offer that doesn't require a level of customization can now be purchased through the digital shopping cart without having to call in to the office or place an email inquiry etc. Shipping will be automatically calculated and customers can complete orders from login to arrival at their doors.
For other products with customizable graphics or features, customers can still purchase through the shopping cart to process the order and reserve one's place in line for production, but in these cases artwork and shipping charges will vary depending on the client's wants or needs.
Searching for the right display can be a tedious task, especially when navigating through various products that don't fit one's needs. TSE's new website allows users to filter displays by multiple categories such as size, price, color, and shipping options. This style of shopping is a major time saver and convenient way to establish realistic options for clients unsure of which display option best fits them.
In the modern world of instantaneous cross continental connectivity and communication through avenues such as social media, the concept of seeing and wanting to know what others are doing has become increasingly important (and advantageous in business and marketing). Now on TSE's new site, users can browse trade show exhibits and accessories by our most popular categories. Find out what items are trending in the trade show exhibiting space, and over time learn which items are fading away or are seemingly timeless. That feature in conjunction with our social media outlets allows for our clients to share a forum for the most reliable products in various situations.
Trade Show Emporium has been around for 9 years now, and 2017 will mark a decade strong. Their website has been a great asset along the way, so they also wanted to make sure they bring back all of the wonderful features that helped build years of growth and solidarity.
The convenience of the live chat is one of the most coveted features TSE offers. Customers can log in and get instant feedback regarding trade show ideas, product knowledge, recommendations, timelines for completion among many other vital pieces of information.
Blogs and recent work posts will also make a full return so clients can read about the latest in trade show news, events, products, and display techniques every week.
The Stylistics once famously sung "You Make Me Feel Brand New", and that's exactly how this website makes Trade Show Emporium feel. Same excellent brand and customer service from the old era, with technological advances for the new era.
Check out the new website here: http://www.tradeshowemporium.com