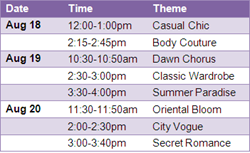 Connecting Responsible Buyers with Trusted Suppliers at Tradegood Pavilion and Business Matching Booth
New York and Hong Kong (PRWEB) August 07, 2013
Tradegood, the B2B sourcing community that connects responsible buyers and trusted suppliers, has been named the Official Matchmaking Partner of MAGIC with the mission of helping buyers find the right business partners at Sourcing at MAGIC at the Las Vegas Convention Centre from August 18 to 21.
As the Official Matchmaker, Tradegood will be facilitating business matching at its Business Matching Booth (#51725) by introducing buyers to the matched exhibitors. Buyers also have the option of looking at Tradegood's vast database of verified suppliers and meeting with those they are interested in through our established business-matching events, video-conferencing or by participating in sourcing trips.
"We are glad to be the Official Business Matchmaker for Sourcing at MAGIC. We are confident that we have market-leading expertise in matching responsible buyers with trusted suppliers. Our unique 'Business done right' verification process helps eliminate blind spots when buyers look for their production partners, and its effectiveness and convenience have been proven by numerous successful matching track records enabled by Tradegood," said Mr. William Quilindo, Chief Operations Officer, Tradegood.
"Tradegood is the perfect platform for ensuring buyers are placing production with the best quality producers as well as certified factories. Presenting their services on the Sourcing at MAGIC show floor gives the attendee more time to navigate the hundreds of choices offered by matching them to the exhibitors that meet their key criteria, thus directly enhancing the attendee's show experience. For example, worker safety is an essential factor for sourcing executives when making factory choices, as well as company image, consistent on-time deliveries and social responsibility, all top of mind and of equal importance. Tradegood's qualified teams simplify the process by vetting out factories. These services offered by Tradegood make them an invaluable partner to us," added Christopher Griffin, Vice President, Sourcing at MAGIC/ WSA@MAGIC of MAGIC International.
Tradegood will also host its first Tradegood Pavilion (#52239) at MAGIC to showcase some of the best fashion suppliers in the market. The Tradegood Pavilion will bring a brand-new sourcing experience to MAGIC visitors by allowing them to examine samples from premium Tradegood supplier members who have had their comprehensive company profiles verified in advance through Tradegood's "Business done right" verification process, which is backed by Intertek's 127 years of experience in the supply-chain quality and safety domain.
This proven system will give added confidence to buyers to start sourcing projects with new suppliers and greatly increase the speed of successful collaboration as the right suppliers will have all the certifications and requirements proven in advance.
A series of sensational Tradegood Fashion Shows will also take place at the Pavilion. Buyers will be invited to relax and enjoy a stunning performance showcasing a range of innovative products from top suppliers.
Please visit our website for show details and a free coffee coupon.
About Tradegood
Tradegood is a B2B sourcing community that connects responsible buyers with trusted suppliers. By verifying suppliers' identities, capacities, capabilities and compliance performance, Tradegood provides buyers with the information they need to choose the right people and organizations to form their global supply chain. For suppliers, Tradegood opens the door to the world's biggest markets through leading brands, retailers and industry relationships. Backed by Intertek's more than 127 years of experience in inspection and verification across the supply-chain ecosystem, Tradegood's global network spans more than 100 countries, providing quality information to help companies do business right.
For more information, please visit http://www.tradegood.com.
Media Contact:
Shelly Lo
Manager, Global Marketing
Tradegood
shelly.lo(at)tradegood(dot)com
852-37606384