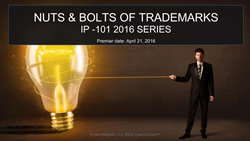 CHICAGO, IL (PRWEB) April 18, 2016
The United States' intellectual property (IP) laws have undergone fundamental changes over the past several years, but more changes may be on the way. Clearly, IP rights foster ingenuity, innovation, and creativity. But some complain that IP rights also enable certain individual and companies to prosper financially more than they should. So, what exactly are IP rights? And how might the affect you or your company? Join some of the leading attorneys in the World, as they discuss—in plain English for the non-expert—the basics of U.S. IP laws.
As with all Financial Poise™ webinars, each episode in the series is designed to be viewed independently of the other episodes, and listeners will enhance their knowledge of this area whether they attend one, some, or all of the programs.
Episode #4 of the IP 101 2016 series is "Nuts & Bolts of Trademarks."(Register Here) Moderator William C. Spence of SpencePC will be joined by Kal Shah of Locke Lord, Darren Spielman of Kain Spielman and Eric Curtin of Crawford Maunu.
Trademarks are words, pictures, or the look and feel of an item that customer's use to identify the goods and services of a business. A successful business spends significant time and money so that its customers come to identify the business name with the with the goods or services that the business provides. This webinar discusses the nuts and bolts of trademarks and explains the requirements for trademark protection, the rights conferred by trademarks, and the steps necessary to obtain and enforce trademarks.
ABOUT FINANCIAL POISE™:
Financial Poise™ provides unbiased news, continuing education, and intelligence to private business owners, executives, investors, and their trusted advisors. For more information contact Emily Goldin at egoldin(at)financialpoise(dot)com or 312-469-0135.