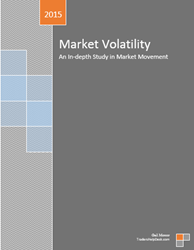 This report provides critical information that traders can utilize to identify the timeframes markets are most likely to experience increases or decreases in volatility.
Elon, NC (PRWEB) June 01, 2015
When is the best time to trade forex, gold, crude or any other futures market that a trader may be interested in? Do the markets move the same amount in May as January? Which months are most volatile? Which months are the least volatile? Which hour of the day is most volatile? Which hour of the day is the least volatile?
These are questions that author Gail Mercer, founder of TradersHelpDesk.com, answers in her new report, Market Volatility – An In-depth Study in Market Movement.
Drawing from many years of market data for both Futures and Forex, Mercer identifies the average annual market range, average quarterly range, average hourly range and the average typical price range following issuance of major market and economic reports. This report enables traders to identify market volatility trends in advance and anticipate the average movement that a single market report may generate.
Mercer's extensive research has yielded a methodology for traders to predict "how much" the futures and forex markets will move at any given time – annually, monthly, hourly, and even during the highly volatile market reports. The report also highlights trends in market volatility for both futures and forex.
Binary Options and Spreads are showing a 400% increase in trading volume. This report is essential for trading out of the money binary options. By analyzing the anticipated price ranges for any given time frame or period on most commonly traded vehicles, traders can now easily identify how far out of the money they can go. This new ability, unavailable to individual traders prior to this report, allows traders to increase their probabilities and profit potential.
Download the free Market Volatility Report by clicking here.