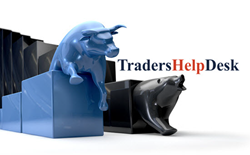 Traders Help Desk contains everything you need to learn about trading binary options, futures, and forex.
Elon, NC (PRWEB) September 06, 2016
Newswatch, a national television show, recently aired a news segment that took a look at a new and innovative app by Traders Help Desk. The new app provides educational materials for trading Nadex Binary Options, futures, forex and commodities.
Traders Help Desk provides everything you need to learn about trading today's markets. Although a common misconception is that the markets are unpredictable, actually they are very predictable once you understand them. The Traders Help Desk app provides and instantaneous access to both educational articles and videos that teach you how to trade binary options, futures, forex, and commodities.
These articles and videos provide traders with education on:

How to identify whether a trend will continue or trace;
Identify support and resistance;
Why volume and price analysis are critical in determining where the market will go;
Why trading psychology is one of the most important skills a trader can develop; and
How to expand your markets to produce even higher returns.
Of course, the best way to play today's markets are with Nadex Binary Options. Nadex Binary Options provide a level trading field for retail traders and allows traders to limit their risk on entry. For new traders, Nadex provides a controlled environment, which also limits losses during their learning process. For more experienced traders, Nadex provides a way to trade high volatile reports while limiting risk on entry. And, since binary options have a maximum payout of $100, traders know exactly what their potential return on investment is before they even enter the trade. This makes trading decisions much easier.
In addition to the educational articles and videos, Traders Help Desk also offers traders online learning courses and trading seminars, as well as more advanced technical indicators for trading binary options, futures, forex and commodities.
The Traders Help Desk app is available on Android and iOS devices. All you need to do to start using the app is download it from iTunes or Google Play. For more information on the app, go to http://www.TradersHelpDesk.com
NewsWatch is a weekly 30-minute consumer oriented television show that airs on the Discovery Channel and ION Network. NewsWatch regularly features top technology products and services, mobile applications for iOS, Android, and Windows devices, unique and beautiful travel destinations around the world, health and medical tips, and entertainment interviews on the show. NewsWatch airs on the Discovery Channel at 7:00 – 7:30 AM ET/PT.
NewsWatch is located in the greater Washington, DC area and has been on air for over 25 years. For more information or to watch the most recent episode, visit http://newswatchtv.com