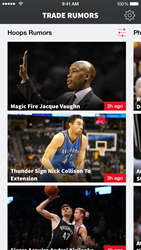 Most of the time, when a big trade hits the headlines, I've already known about it for a couple of days. I use the app a ton, both during the season and over the offseason. It's awesome!!! -- App Store review, kmoland
Glen Ellyn, IL (PRWEB) February 16, 2015
The Trade Rumors app is changing the game. This free app, available on iOS and Android, now allows users to set up custom notifications at the sport, team, and player level. As the NBA trade deadline approaches on Thursday, it's the perfect tool for hoops fans who want to be the first to know about every blockbuster deal. Don't take our word for it - Trade Rumors has 126 five-star ratings and counting since the notification feature was released on February 4th.
Trade Rumors allows diehard sports fans to set up endless combinations of news feeds and notifications to meet their preferences. Whether it's a Chicago fan seeking the latest on the Bulls, Cubs, White Sox, and Bears or an obsessed NBA fan monitoring potential trades of Brook Lopez, Goran Dragic and Lance Stephenson, the sky is the limit. Trade Rumors has been downloaded over 28,000 times for iOS and over 11,000 times for Android since being released in late October.
Trade Rumors is powered by the world's best trade and free agent-focused websites covering the three major sports 365 days a year: Hoops Rumors, MLB Trade Rumors, and Pro Football Rumors. Collectively, these three websites received over 200 million pageviews in 2014.