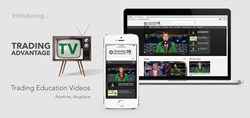 Trading information & trading education tips that are easy to access with a user-friendly interface that works on desktop as well as mobile devices such as iPhones and iPads."
Chicago, IL (PRWEB) October 08, 2013
TradingAdvantage.TV features trading education videos, analysis, market recaps, insights and information, as well as strategy and trading tips; filmed live at the floor of the CME Group, the Chicago Board Options Exchange or at the Trading Advantage headquarters.
"TradingAdvantage.TV fulfills a growing demand for instant access to online trading education, experts' opinions and market analysis," said Larry Levin, Trading Advantage President and CEO. "It provides pertinent trading information & trading education tips that are easy to access with a user-friendly interface that works on desktop as well as mobile devices such as iPhones and iPads."
The network expands the firm's global reach and features a host of Trading Advantage experts, including Levin, Dan O'Brien, Alan Knuckman, Scott Bauer, and Charles Moon, to mention a few.
"It doesn't matter what time zone you're in across the globe, you can immediately get plugged into the information you need with on-demand access to appearances that aired on Fox Business, CNN, Bloomberg News and CNBC" Levin said.
TradingAdvantage.TV allows traders to conveniently track videos by title, topic, date, and add comments.
"Trading Advantage is leading the way in educating and empowering the individual investor, so they can compete in the new technology-driven marketplace," said Levin.
About Trading Advantage
Founded by Larry Levin in 1998, Trading Advantage is a leading trading education firm that offers extensive trading education and courses on futures, options, stocks, day trading, and commodities. The company boasts a professional and experienced instructor team of more than 40 high-caliber industry leaders committed to providing the best trading techniques, strategies, and training. To learn more, please visit http://www.tradingadvantage.com and http://www.tradingadvantage.tv