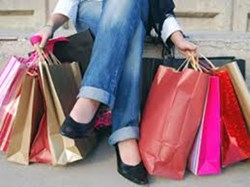 Yes, it's the season of giving, but not everybody's budget is the same as last year's.
Bingham Farms, MI (PRWEB) November 21, 2013
Some have already started shopping for the holidays. Others have completed their list by now. Some haven't yet begun, and others will do it all on Christmas Eve. Whatever your pace is, Trading Concepts, Inc. CEO Todd Mitchell encourages fiscal responsibility (i.e. shopping within your means). In simple terms, don't pay out more than you have coming in.
"Yes, it's the season of giving, but not everybody's budget is the same as last year's," Mitchell said. According to The American Research Group Inc., "Shoppers around the country say they are planning to spend an average of $801 for gifts this holiday season, down from $854 last year," an anticipated 6% decrease. This statistic is from the twenty-ninth annual survey on holiday spending from the American Research Group, Inc. conducted November 10-14, 2013.
Trading Concepts offers these tips for holiday shopping:

Although $801 is the anticipated average, this doesn't mean everyone has to spend that amount
Give from the heart, not out of guilt or obligation (you don't have to keep track of what others have spent on you in the past in order to spend the same on them; your budgets may differ and that's okay)
Review your family's budget and determine what your family can realistically afford
Research gift ideas, prices, sales events and coupons online while making your list
Shop the sales with cash and stick to your budget. This often requires a willingness to be flexible and creative if you discover a gift you had hoped to buy, although "on sale", still costs more than you can afford.
Most importantly, Mitchell adds, "Avoid using a credit card unless you can pay it off in full when the bill comes, otherwise you will pay interest. This causes your budget to go up and defeats the purpose." It's fun to give gifts, but if you have a debt you can't afford come January, you won't be starting the New Year out on a happy note.
"Besides," Mitchell adds lightheartedly, "the more you spend, the less you will have for fun things like investing in stocks or trading the markets."
About Todd Mitchell:
Todd Mitchell has been involved with the markets since 1988. His training success has been tied to consistently developing and improving his trading approach based upon the use of bar charts. Todd Mitchell's entire approach to trading is to be honest and straightforward. Todd's love for the markets and his love for teaching echoes throughout all of his work. Todd is founder and CEO of Trading Concepts, Inc.
About Trading Concepts Inc.:
Founded in 1994, Trading Concepts quickly established a reputation as one of the industry's finest educational companies in the world. As one of the oldest, most respected trading education companies in the industry, they are proud to have mentored over 10,000 traders in Forex, E-mini futures, Options and Stock Trading, bringing them powerful trading strategies and money management techniques that have previously only been available to professional traders.
To view the full report from The American Research Group Inc., please see
http://americanresearchgroup.com/holiday/