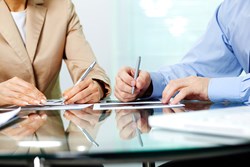 Have a business plan for your income, work to improve that plan, and be open to re-evaluating that plan if it isn't working.
Bingham Farms, MI (PRWEB) October 15, 2013
With the partial shutdown and debt ceiling deadline approaching, we have learned that the government may not always be there to meet our needs. Along with Monday's Fox News report that the social security increase could be the lowest in decades,Trading Concepts Inc.'s founder and CEO Todd Mitchell says, "Another new normal is that we cannot rely on government to run status quo and we need to have a personal contingency plan."
According to Fox News, a small increase would affect tens of millions, including people who rely on Social Security, veterans' benefits and federal pensions. The actual increase is dependent upon the Cost of Living Report (COLA) which is due to be released this month. Mitchell says that "although this news is disappointing to some, there are other ways to increase earning potential."
"Trading the markets can be one way to create additional income," Mitchell said. This is an avenue folks who have never traded before may want to consider. Trading Concepts, Inc. is a trading education company. Their teaching methods are structured so that even people who have never traded before can learn. "Of course it's not for everybody, but for those with an open mind and the determination to learn, success in trading the markets can happen. Even established traders can benefit from our programs by learning new methods," Mitchell said.
Mitchell's positive, goal- oriented approach to business offers hope and encouragement. "Even in today's volatile trading market, almost anybody can learn successful trading skills," Mitchell said. His company's goal is to build better traders through mentoring. Trading Concepts offers mentoring programs dealing with futures, stocks options and FOREX trading. The program is for beginners through experienced traders.
"A major part of success is continuous improvement," Mitchell states. "And being open to learning proven techniques will allow individuals greater opportunity for success." This is a personal as well as professional belief Mitchell has held tight to since he began trading in 1988. Whether you are trading for the first time, you wish to build on what you already know, or improve in any areas where you may have fallen short—Trading Concepts provides philosophies, insight and analysis to help other traders succeed.
"So don't be panicked by the media reports and hype," Mitchell said. "Have a business plan for your income, work to improve that plan, and be open to re-evaluating that plan if it isn't working. This is what keeps folks ahead of the curve."
About Todd Mitchell:
Todd Mitchell has been involved with the markets since 1988. His training success has been tied to consistently developing and improving his trading approach based upon the use of bar charts. Todd Mitchell's entire approach to trading is to be honest and straightforward. Todd's love for the markets and his love for teaching echoes throughout all of his work. Todd is founder and CEO of Trading Concepts, Inc.
About Trading Concepts Inc.:
Founded in 1994, Trading Concepts quickly established a reputation as one of the industry's finest educational companies in the world. As one of the oldest, most respected trading education companies in the industry, they are proud to have mentored over 10,000 traders in Forex, E-mini futures, Options and Stock Trading, bringing them powerful trading strategies and money management techniques that have previously only been available to professional traders.